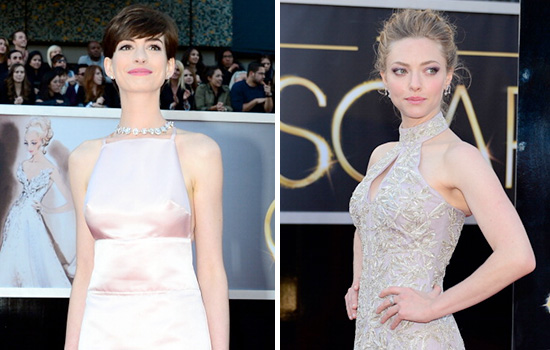 As reports of Anne Hathaway haters continue to surface, the actress has entered full damage control.
Last week, story after story was written about the fact that people can't stand the "Les Miserables" star. It didn't help that the actress' pink Prada Oscar dress was heavily critisized and spawned the Twitter account @AnneHathawayNipples.
The fact that star chose to wear the dress instead of her planned Valentino number baffled many (and by many, we mean people that actually give a shit about this sort of thing).
Knowing that the world would be spending the rest of their lives wondering why she changed dresses at the last minute, Hathaway released a statement expalining herself:
"It came to my attention late Saturday night that there would be a dress worn to the Oscars that is remarkably similar to the Valentino I had intended to wear, and so I decided it was best for all involved to change my plans," Hathaway said.

"Though I love the dress I did wear, it was a difficult last-minute decision as I had so looked forward to wearing Valentino in honor of the deep and meaningful relationship I have enjoyed with the house and with Valentino himself. I deeply regret any disappointment caused."
To top it all off, there was an unflattering story about the fact that it was Hathaway's co-star Amanda Seyfried who would be wearing a similar Alexander McQueen gown.
According to an US Weekly report, she freaked when she discovered what the 27-year-old would be wearing.
"Anne was like 'WTF?!'" the source reports. "She started throwing a fit!" The 30-year-old Best Supporting Actress victor, however, "never told Amanda she had to change the dress." Still, Seyfried, 27, was ruffled by Hathaway's tirade. "Amanda didn't want to deal with it and left" the rehearsal, the source notes.
Of course, Hathaway's rep (who's getting used to putting out fires for the star) has issued a statement denying the report.
"Anne and Amanda are very close friends. There were no hostilities at all," she told Gossip Cop.
Excuse us while we roll our eyes.
Fun Fact: Hathaway was initially set to take on Jennifer Lawrence's role in "Silver Linings Playbook" but bowed out to film "The Dark Knight Rises."
Be the first to receive breaking news alerts and more stories like this by subscribing to our mailing list.