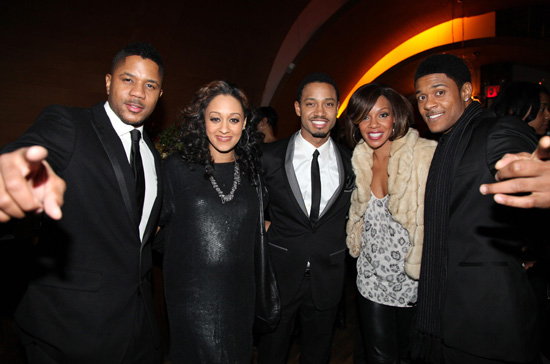 Congratulations are definitely in order for BET and the latest addition to their line-up of sitcoms, "The Game!"
According to stats released this week, when the show made its big return to television Tuesday night (1.11.11) via BET (after being dropped from the CW 2 two years ago), "The Game" brought in nearly 8 million viewers, making history as the biggest audience EVER on the network!
More info (along with pics from the premiere party in New York City) below and when you continue reading:
In three seasons on the low-rated CW broadcast network, the sitcom The Game never averaged more than 2.3 million viewers, and in its final season, it averaged a measly 1.68 million, but in its debut on the BET cable network on Tuesday, the show attracted 7.7 million, putting it ahead of much of its broadcast competition. It was the biggest audience ever to tune in to a program on the Viacom-owned network.

"It's so great to hear from a community that feels they're being overlooked by the major networks," BET chief Debra Lee told Advertising Age magazine. Separately, she said in a statement "It is clear these two shows are real game changers for the Network and the proven success of last night tells us that our viewers are not only passionate about the types of programming that we offer, but continue to crave on-air programming that reflects and respects our voices." (Source)
Welcome back guys!!
Be the first to receive breaking news alerts and more stories like this by subscribing to our mailing list.