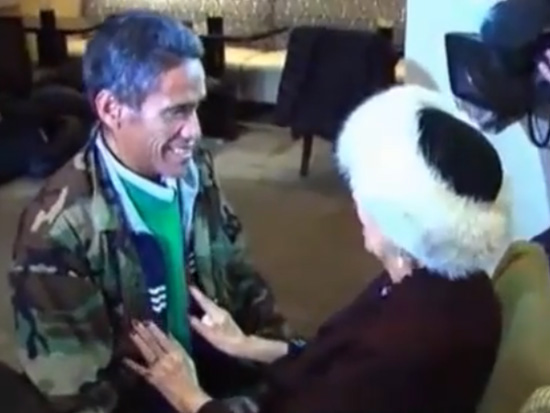 53-year-old Ted Williams said it was "like a dream finally came true" when he was reunited with his mother for the first time in YEARS Thursday (Jan 6).
It was a noticeably emotional moment for the "Homeless Man with the Golden Voice" (as the media likes to call Mr. Williams) as he approached his 90-year-old mother in their fist in-person meeting in over a decade.
When he first got a glimpse of his mom, Williams exclaimed "Hi, Mommy!" before kneeling down to embrace her as she cried in his arms.
Video footage and more details about reunion are below!
Since Williams and his talent were discovered on the side of the road earlier this week, he has been presented with numerous job offerings, including some voice-over work he recently did for a Kraft Macaroni & Cheese Commercial. But nothing, Williams says, compares to seeing his mother again after so many years.
"I was just gone," he said of the reunion. "We didn't even say anything. Man, it was like a dream finally came true."

Ted Williams says the prolonged separation was out of shame and embarrassment – the product of all of the promises he made to turn around his life that, until three days ago, were empty. "I felt like I brought so much disgrace to this world," he says. "There wasn't much I could say."

"It was like a broken record," his mother very realistically said of the times he told her he was going to make a career with his voice. "All I got was promises." And now that those promises are holding true, Julia Williams had some advice for her son as she warned him, "Please don't disappoint me. Hold your life together," she says. "Just don't let things fall apart when you fall in with the wrong people."

Source: PEOPLE
We're really happy for this guy now that he's finally able to live his life-long dream. Let's just hope he keeps that good head that he has right now on his shoulders, and doesn't fall back into an alcohol/drug addiction due to his newfound fame.
What do you think?
Be the first to receive breaking news alerts and more stories like this by subscribing to our mailing list.