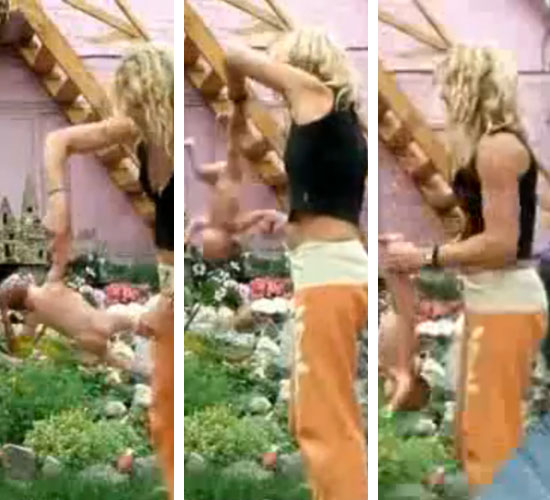 WOW!!! This can't be real!
In a rather disturbing video posted to YouTube, a Russian woman can be seen swinging a naked baby like a rag doll for an odd form of infant exercise called "baby yoga". (Huh???)
Peep the footage (and details) below:
The following video shows a Russian lady subjecting a squirming baby to "dynamic exercises" that involve swinging it by its arms and ankles, upside down and over her head. Oddly, there is precedent: Russian swinging baby videos are a meme.

"Baby Yoga with Lena Fokina" (as, I am told, the title frame translates) originated on YouTube. It contains a URL that leads to a Russian '404 error' page. The baby moves at the beginning (0:10) and end (5:10), and spends the middle portion swinging around like a discus. It's so ridiculous, I burst out laughing the first time I saw the baby flip—then grew uncomfortably quiet as I contemplated that possibility that I was watching an infant being hopelessly maimed. But it can't be real, right?

Spotted @ Gawker
Those damn Russians are somethin' else! (**Kevin Hart voice**)
What do you think about this?

Be the first to receive breaking news alerts and more stories like this by subscribing to our mailing list.