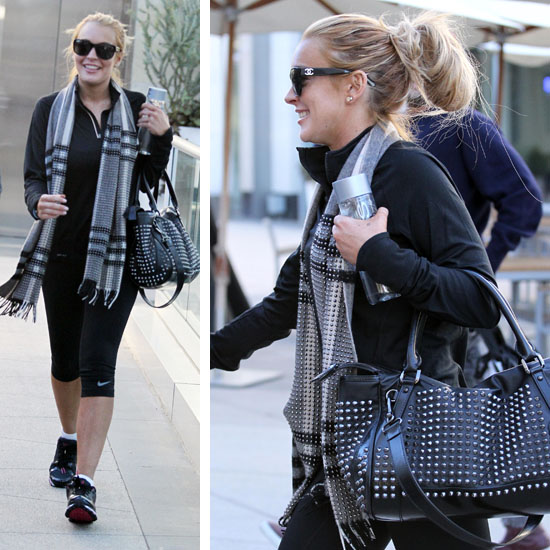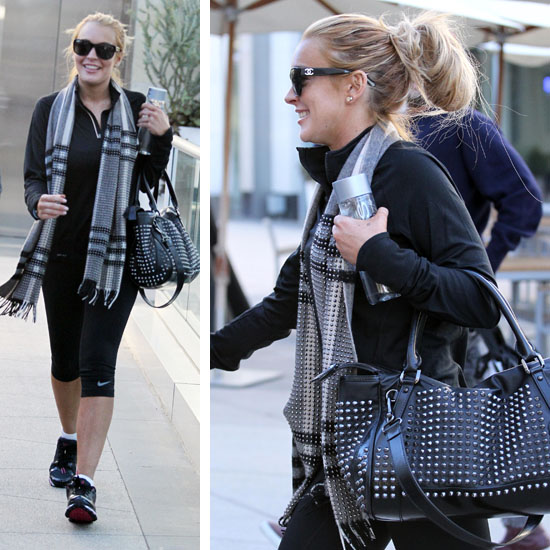 Lindsay Lohan had a big grin on her face early this morning as she arrived at the gym for her first post-rehab work out in Los Angeles. But the actress won't be smiling for long as her legal case isn't looking too good right now…
Just yesterday, we were talking about how she could possibly be sent to prison for violating her probation. And today, we're hearing that the investigation in the case is complete, and the actress may not have incurred not just one, but SEVERAL probation violations during her stay at the Betty Ford rehab clinic. The actress could also be facing battery charges from that fight she had with a (now fired) Betty Ford staff worker.
More below!
Lindsay is under new scrutiny following her altercation with Betty Ford staffer Dawn Holland, who was fired after the incident for selling confidential medical information about Lohan to TMZ.

On Wednesday, Palm Desert Police Department released this new statement to RadarOnline.com:

"Over the last few weeks, Investigators for the Palm Desert Police Departments Investigations Bureau have been investigating the battery between Ms. Lohan and a Betty Ford Center staff member, Dawn Holland. This investigation is now complete and it is anticipated that this investigation will be submitted to the appropriate law enforcement agencies (Riverside County District Attorney and LA County Probation Office) later this week or no later than the early part of next week for their review and any appropriate action.

"While Ms. Holland and her attorney have notified Investigators she no longer desires prosecution against Ms. Lohan, the investigation and facts in evidence has revealed other possible violations by Ms. Lohan relating to certain conditions of her probation terms. These additional findings has required investigating officers to conduct additional investigation. It is premature to release these facts and investigative findings at this time as the final completed criminal investigation has not yet been received and reviewed by the appropriate concerned law enforcement agencies. Until this has been completed, no additional information will be released to media requests nor will we be releasing any 911 calls, tapes or recordings as to do so may hinder the judicial process."

Lindsay and her lawyer Shawn Chapman Holley will now be coming up with a battle plan has they try to discredit Holland and the Palm Desert Police Department. RadarOnline.com revealed how Holland was paid over $10,000 by TMZ for selling her story of the now infamous bust-up at the star-studded rehab.

Police will NOT release the official 911 tapes until the final criminal investigation is completed – it is not known if Lohan failed any drugs or alcohol tests at Betty Ford on the night of the fight. RadarOnline.com revealed that Lohan will NOT be seeking criminal prosecution of Holland.
The Palm Desert Police Department will be turning its findings over to the Riverside County District Attorney as well as the Los Angeles County Probation Office soon. If the 24-year-old "Mean Girls" star is found to have violated her probation, she could be sent to prison. And once the judge bangs makes a final decision her gavel, there's nothing Mommy or Daddy Lohan can do for their troubled little girl.
Your thoughts?
Be the first to receive breaking news alerts and more stories like this by subscribing to our mailing list.