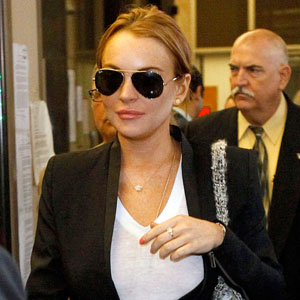 Lindsay Lohan was released from the Betty Ford rehab center yesterday (Mon. Jan 3), but the actress may only be getting a taste of freedom. Why? Because she might be going to prison soon!
After completing a 90-day stint in rehab in connection with her 2007 DUI conviction, authorities in California are now claiming that Lohan violated her probation by getting into a physical altercation with a former staff member at the rehab center late last year.
But as a condition of her probation, Lindsay Lohan CANNOT be found in violation of ANY law, and can possibly face battery charges for that particular little mishap.
Full details are below:
According to Pop Eater:
Lohan's lawyer Shawn Chapman Holley has confirmed that an incident took place on Dec. 12, but declined to provide any details of what happened. And though Holland is "no longer cooperating with the investigation and does not wish to have charges filed," according to the Riverside sheriff's office, "It is expected that this investigation will be sent to the district attorney's office later this week."

In an interview with TMZ, Holland claimed Lohan and two other female Betty Ford patients left the facility without permission and declined breathalyzer tests upon their return. Holland claimed Lindsay became belligerent, pushed her and snatched a phone from her hand, straining her arm.

"Lindsay and two other patients had snuck out, went drinking and tried to sneak back in and they got caught," Holland told TMZ after the alleged incident. "We were told by our administration on-call to do a breathalyzer test, which she refused to do … She was angry and out of control."

Holland has since been fired from Betty Ford for breaking confidentiality laws by identifying patients at the center in the TMZ interview, "disclosing a privileged document" and violating HIPAA laws.

"When patients come to the center for treatment, they come to a safe place where their identity is protected, where anonymity is safeguarded," the center said in a statement after Holland's dismissal.

Lohan's probation is set to end in August, and, according to CNN, she is now expected in municipal court on Feb. 1 to review her progress in fulfilling the terms of her probation. She will also appear before Los Angeles Superior Court Judge Elden Fox, who sentenced the actress to rehab after Judge Marsha Revel recused herself from Lohan's case this summer, on Feb. 25 for another progress hearing.

Lindsay Lohan just can't stay out of trouble to save her life can she? SMH…
What do you think?
Be the first to receive breaking news alerts and more stories like this by subscribing to our mailing list.