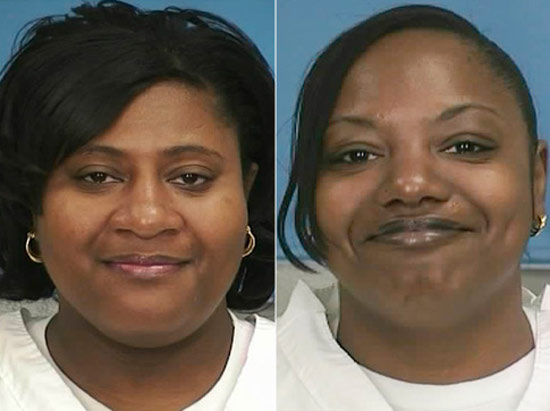 Prayers CAN be answered…
These two sisters were given double life prison sentences in 1994 after taking part in an $11 robbery in Mississippi.  Now 16 years later, a judge has suspended their prison terms under one condition…..one has to give the other a kidney. Peep the full story below:
Mississippi's governor suspended the prison sentences of two sisters serving life terms for robbery on the condition that one of the women gives her kidney to the other. Gladys Scott, 36, and Jamie Scott, 38, were charged in 1994 of leading two men into an ambush where a group of teens beat and robbed them in central Mississippi, making off with just $11. They were convicted of two counts of armed robbery and each given double life sentences.

But on Wednesday, Gov. Haley Barbour granted an indefinite suspension of their sentences contingent on Gladys giving a kidney to her sister, whose daily dialysis treatment in prison has cost the state a lot of money, Barbour said. "I think it's a victory," said the sisters' attorney, Chokwe Lumumba. "I talked to Gladys and she's elated about the news. I'm sure Jamie is, too."

For years, civil rights advocates have called for the sisters' release, saying that their punishment was excessive. In September, hundreds of people protested at the state capitol in Jackson to call for their release, and the NAACP, the Freedom Riders and others had petitioned Barbour to let them out, Mississippi's Clarion-Ledger  reported. The state originally planned to release Jamie so that she could have a kidney transplant, and Lumumba said  Gladys volunteered to give up the organ as part of her plea to be released along with her sister.

"She wanted to do it," Dan Turner, a spokesman from the governor's office, told  The Associated Press. "That wasn't something we introduced." The suspension, which is indefinite, can be reversed if the conditions are not followed. Along with an agreement to go through with the transplant, which will require months of recovery, the sisters will probably have to agree to regular meetings with a parole officer as part of the conditions of their release.

If the operation cannot proceed for medical reasons, Lumumba said the governor's attorney said that they would revisit the agreement but she would not go back to prison, the Clarion-Ledger reported. They won't be release immediately. They have requested to live with their mother and children in Florida, and state prison officials said the approval process for that request will take at least 45 days.

The sisters would have been eligible for parole in 2014.
Good for them, but this should have happened a long time ago!!! SMH…
Thoughts?
Be the first to receive breaking news alerts and more stories like this by subscribing to our mailing list.