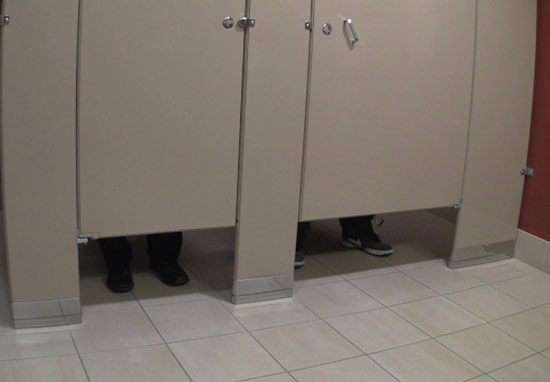 Now this has to be one of the grossest things we've heard in a while…
An 80 year-old man was arrested Monday (Dec 27) after sticking his pecker in a glory hole to attract a park ranger in the bathroom stall right next to him. (Huh???)
Read the full story below:
An 80-year-old man was arrested Dec. 27 after allegedly using a "glory hole" in a National Park Service restroom to display himself to a ranger using the stall next door, according to his arrest report. The ranger was on routine patrol at Naval Live Oaks when he noticed the older man staring at him. The ranger ignored the man's stares and went into the restroom, according to the report.

The restroom is known to "entertain deviant acts," the ranger noted, and still has "glory holes" cut into the walls of the stall. After being subjected to the indecent exposure, the ranger immediately left his stall and confronted Richard Laiko, who was trying to pull his pants up, according to Laiko's National park Service arrest report. Laiko would not turn around and put his hands up, so the ranger was forced to take him to the ground to arrest him.

Laiko, who lives in Lillian, Ala., told the ranger he was going through a divorce and offered to do free landscaping projects if he would consider letting him go. That conversation was captured by the ranger's dashboard audio, according to Laiko's arrest report.

He was charged with indecent exposure, bribery and resisting arrest without violence.
Our face would bed redder than the devil's azz if that was our grandpa! SMH…
Be the first to receive breaking news alerts and more stories like this by subscribing to our mailing list.