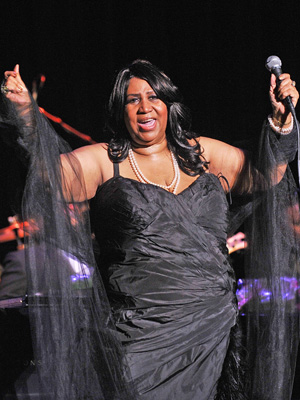 R&B legend Aretha Franklin is back at home in Detroit recuperating after her discharge this week from the hospital following her "highly successful" surgery.
Our friends over at JET Magazine sat down with the Queen of Soul and asked her how she's doing.
"I feel great. The doctors say I can do whatever I feel like I am up to do. Of course, that doesn't mean any concerts or anything like that. But I can do things around the house, and today I am just piddling around the house."
The legendary R&B singer, who has been advised by doctors to rest for about 8 weeks, didn't specify what the surgery was for, but she did say that she will reveal the details soon.
She also talked about receiving tons of support and prayers from many celebs of all different varieties, including Oprah Winfrey, Stevie Wonder, Patti Labelle, Smokey Robinson, Condoleeza Rice, Shirley Caesar, Vanessa Bell Armstrong and more.
Check out the interview below!
Franklin didn't give specifics on surgery, but she promised JET that she would soon reveal what is ailing her. For now, she says she wants to follow her physicians' request and just rest. "I am putting Aretha together first. We will put Ree Ree together first. This is Aretha time to do whatever it is that I need to do. But I will talk more later."

The soul legend has received an outpouring of support from many people, including, she says, Stevie Wonder, Oprah Winfrey, Tavis Smiley, Rev. Jesse Jackson, Patti LaBelle, Dionne Warwick, Smokey Robinson, Berry Gordy, Condoleezza Rice, Shirley Caesar, Karen Clark Sheard, Dorinda Clark Cole and Vanessa Bell Armstrong.

The thoughtful singer said she doesn't want to forget anyone who has supported her. "There were so many people. I might not remember everyone's name right this moment, but please, I want them know I appreciate their prayers."

She said she particularly appreciates the sister friends who have rallied around her, especially the gospel performers. "They know that I am a lot more than the girl in the pink Cadillac on the Freeway of Love who also sings about Respect," referencing some of her catalog. They know I am a praying woman. They pray without ceasing for me. I went through on His Word. I 'sho nuff' know the Word," she said.

Franklin said she appreciates "the great sisterhood" that has reached out to her. "Sisterhood is so important. It really means a lot because it is solid. The sisters came together over me. They can put it together and they can pull it together. They said, 'What is it that you need? What needs to be done?' Don't think the sisters can't handle it. We can handle it," she declares. And we have to be reciprocal in that manner. People don't know whose help they may need. People support you, you support them."

She said she's been relaxing by catching up on her reading, and after our phone interview she said her plans for the day included looking at the faxes she's been receiving and then just taking it easy. "It is good to sit up, too. I also might make one or two business calls. Not too much, just a teeny bit."

She also thanked her family friend Willie Wilkerson, her sons, her niece Sabrina and her cousin Brenda for standing by her side. "My family has been with me every step of the way. I couldn't have done it without them, that's for sure."

In an earlier press statement, Franklin also acknowledged: "My family and friends who brought me home are taking great care of me. I also have a private nurse who visits on a daily basis. I'm hoping to be well enough to go and see Dreamgirls at the Fox Theater before it closes on Jan. 2."

She told JET she has received the best gift for Christmas: her improved health. "God has given me the greatest gift already for the holidays. I am so grateful." (Source)
Get well soon Ms. Franklin!
Your thoughts?
Be the first to receive breaking news alerts and more stories like this by subscribing to our mailing list.