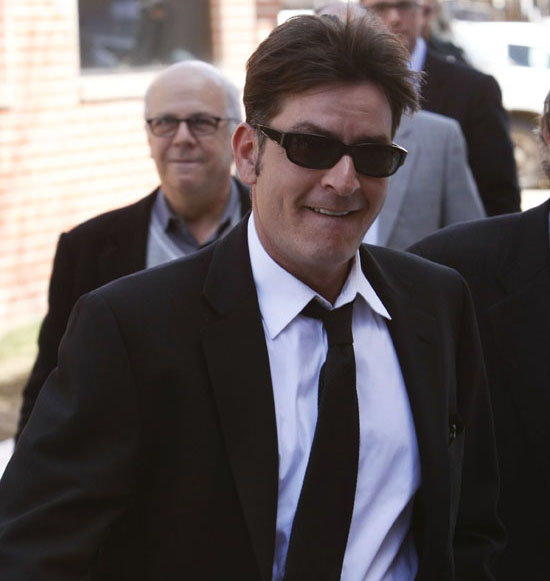 Charlie Sheen has GOT to have the best luck in the world!
The actor has reportedly caught another break with the law, and has been cleared of any and all charges related to that crazy incident at the Plaza Hotel in New York City.
"There have been no arrests," an NYPD spokesman said. "That case is closed." (Source)
Continue reading below for the details:
Back in October, Sheen allegedly went on a drunken rampage and tore up a luxury room in NYC's Plaza Hotel, where he was found to be in the company of a porn star named Capri Anderson.
Following the incident, Anderson filed a criminal complaint against The "Two and a Half Men" star, alleging that she was falsely imprisoned in Sheen's suite as the (naked) 45-year-old actor tossed around furniture. In her complaint, Anderson describes the incident vividly, and says that she was so scared that she locked herself in a bathroom and called security because Sheen was totally out of control.
When all was said and done, Sheen's hotel room was trashed with damaged furniture, a broken chandelier and more, totaling to about $7,000 in damages. Authorities on the scene considered arresting the actor for disorderly conduct right on the spot, but chose not to due to him voluntarily agreeing to cooperate with the police, and go to the hospital where he underwent a psychiatric evaluation.
In November, Sheen, filed a lawsuit against the porn star claiming she was trying to extort him. Describing her as an "opportunistic pornographic film star and publicly hungry scam artist," Sheen stated Anderson was trying "an attempted shakedown and extortion of the internationally known actor and celebrity Charlie Sheen."
And now, in December, the case is officially closed and no charges will be filed, which is good news for Sheen, who is currently on probation for pleading guilty to misdemeanor assault against his wife Brooke Mueller. Had he been charged, his probation would have been provoked, forcing the actor to serve time behind bars for the remainder of his probation.
Before the alleged incident, Sheen had been visiting his ex wife Denise Richards (who he divorced in 2006) and their two daughters Sam and Lola in New York.
An official statement from Charlie Sheen's camp is expected this week.
Your thoughts?
Be the first to receive breaking news alerts and more stories like this by subscribing to our mailing list.