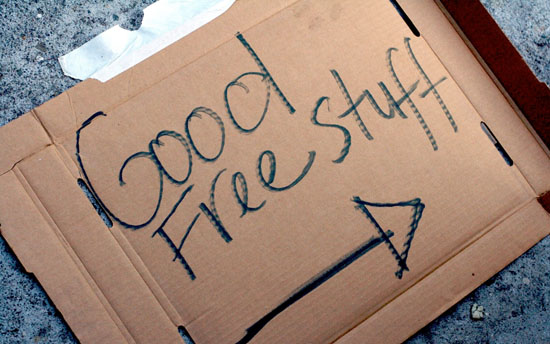 Now this really gave us a chuckle…..
Two drunk guys robbed a FREE store in Canada. (Huh???)
Read the full story below:
The owner of an unusual Edmonton store is scratching his head after two men broke in earlier this week to steal things. Why break in, the owner asks, when everything in the store is free?

The Free Store, located near 84th Street and 118th Avenue, opened earlier this year. People pay a $2 fee to drop off unwanted items, and store customers can take whatever they want for free. Co-owner Brandon Tyson came into the store on Thursday night and found two men inside. They'd kicked out the front window, leaving a lot of glass to clean up. "For the most part, being a free store, we wouldn't expect someone to come and rob us because they can come back and get it all free the next day," Tyson said. "But I guess apparently some people do."

Tyson chased the two would-be thieves out of the store, caught one of them and called the police. He said the men were drunk. Tyson said the entire incident was bizarre. "We are a free store," he said. "We give absolutely everything we have here completely free back to the community as a way to help keep these resources out of the landfill. So it's really funny. It's actually been a joke of ours — to actually have somebody break in here and steal from the free store."

It wasn't known if charges were laid.
We wonder how long it took for those clowns to realize that they were robbing a FREE store! Come to think of it, they were probably so drunk they didn't even realize it was a free store at all, even though the sign outside most likely said "The Free Store." Some people should never drink! SMH…
What do you think?
Be the first to receive breaking news alerts and more stories like this by subscribing to our mailing list.