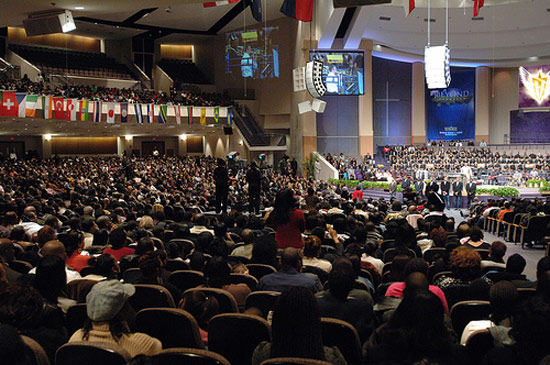 Bishop Eddie Long and his church are back making headlines again!! This time they're getting sued for $78 million along with Dekalb County.
Read the full story below:
A 42-year-old Rockdale County woman is suing DeKalb County and New Birth Missionary Baptist Church for $78 million — $1 million for every day she claims she was wrongly jailed. Arettonette Ingram's suit, which she filed without an attorney, says she was arrested on terroristic threat charges after a New Birth youth ministry counselor relayed false statements to police about a phone conversation they had.

Authorities accused Ingram of threatening to kill herself and her two children, and threatening to "blow up" U.S. Rep. Hank Johnson's office. DeKalb County jail records show she was arrested May 21, 2008, and released Aug. 6, 2008. Ingram alleges she was unjustly arrested and "allowed to fall through the legal system's cracks." She told Channel 2 Action News: "I never said anything threatening or derogatory." The case against her eventually was dismissed, according to Channel 2.

New Birth asserted in a court filing that its employees had nothing to do with Ingram's arrest or incarceration. DeKalb County police said they can't comment on pending litigation. The suit, portions of which are handwritten, also names DeKalb County Police, the DeKalb Sheriff's Office, Johnson, Johnson's wife and former DeKalb CEO Vernon Jones.

Ingram claims her incarceration affected her entire family and led to her dog, Zeus, dying at a shelter because of "stress" from being separated from her.

"I appear scatter-brained or inconsistent, however I have full capacity of my mind and my peers who I communicate with and have been dealing with since October 2007 understand and generally agree with we are the people and we can make a chance," she wrote in the suit.

DeKalb court records show Ingram also has several suits pending against her, including one from an apartment complex for failure to pay rent.
We knew it wouldn't be too long before we heard his name in some more bullsh**. SMH!!!
Be the first to receive breaking news alerts and more stories like this by subscribing to our mailing list.