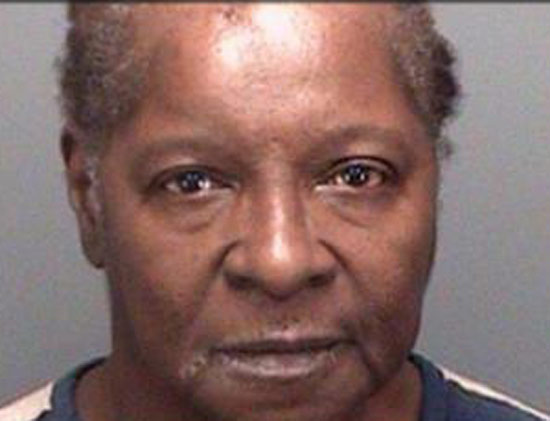 Now that's taking it too damn far!!
A newlywed stabbed her (yes….that is a woman pictured above) husband SEVEN TIMES after an argument over the TV remote. He wanted to watch Monday night football…she was more into "The Closure". (Guess we all know who won THAT battle)
Read the full story below:
Deloris Holley spends her Monday nights watching her favorite television show, a crime thriller called "The Closer." It just so happens her husband, David Marion, wanted to watch what most sports fans live for at the beginning of each week – Monday Night Football. And, as every newly married .husband and wife know – marriage is all about compromise. But in this case, it seems, these St. Pete newlyweds weren't giving in to their disagreement. That's when the drama began.

Public Information Officer Michael Puetz from the St. Petersburg Police Department says, "They've been married for about 5 months, so we don't know their total history at this point. But, obviously this was an extreme case of letting your emotions get away from you."

St. Pete Police say Deloris got so angry that her husband wouldn't give up the remote that she ran to the kitchen, grabbed a five-inch steak knife and stabbed him. Not once, not twice, but seven times. She got him everywhere, cops say, in the back of the head, his face, his shoulder, his back, and ultimately, his chest. Detectives say she plunged the knife so deeply that she punctured his lung, nearly killing him.

Michael Puetz told 10 News, "Everybody has their argument in front of the television, but obviously, this went extreme in this case." In the end, paramedics were called to their senior citizen apartment complex around 9:00 monday night. The husband was rushed to Bayfront Medical Center for treatment while his 61-year-old wife was arrested on charges of attempted murder….

Police say she was driven to kill over the remote, and the only television she'll be watching. now is the one behind bars. Deloris Holley was denied bond. Police believe alcohol may have been a factor in this incident. They also believe that the couple was fighting about money.
We hope the poor fella gets the hell away from her soon as possible! At this point, we would consider divorce the one and ONLY option to rectify this situation. That b*tch is obviously crazy!!! SMH…..
Be the first to receive breaking news alerts and more stories like this by subscribing to our mailing list.