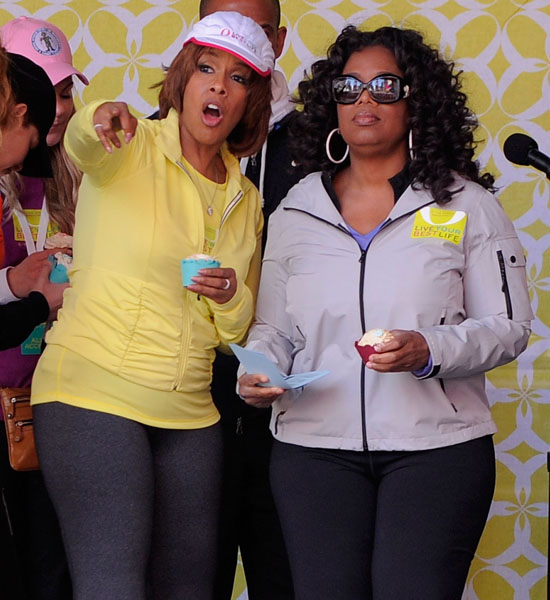 Oprah Winfrey has had it up to here with people claiming she's a lesbian, and that Gayle King is her "on the low" girlfriend.
The daytime television queen recently sat down with Barbara Walters for an hour-long TV special to air tomorrow night (Thurs. Dec 9) on ABC, and set the record straight on her relationship with her BFF Gayle King, who folks assume is her undercover lover because of how close they are.
In the interview, Oprah made it clear that she and Gayle King are NOT lesbian lovers, adding that Stedman Graham is the love of her life. Peep what Oprah had to say about she and Gayle's friendship, along with her relationship with Stedman, below:
"I have said we are not gay enough times. I'm not lesbian … I'm not even kinda lesbian," Winfrey told Barbara Walters. "And the reason why it irritates me is because it means that somebody must think I'm lying. That's number one. Number two, why would you want to hide it? That is not the way I run my life."
When asked to describe her friendship with Gayle King, Oprah got choked up and even shed a few tears.
"She is … the mother I never had. She is … the sister everybody would want. She is the friend that everybody deserves. I don't know a better person. I don't know a better person. It's making me cry because I'm thinking about … how much … I probably have never told her that."
Oprah and Barbara also discussed Oprah's quiet and very private relationship with businessman and entrepreneur Stedman Graham, her partner since 1986 (they got engaged in 1992).
"Every time we showed up in public… there'd be another exploitive story," Oprah said. "So I made a conscious effort around 2003, 2004, to pull back on my public appearances with Stedman."

"The love … the lover … the man … the partner … the mate," Oprah said, describing her significant other. "I do not know of another man on this planet who could have lived this life with such dignity, with such grace and such respect and humility in it. And still hold his own and be his own."
Winfrey also spoke on the high level of work that's required to run her own TV network.
"I would wake up in the middle of the night literally clutching my chest, like 'What have I done? What have I done?'" she said.
"The Oprah Winfrey Show," currently in its 25th and final season, concludes at the end of the year, and Oprah's TV network, titled "OWN," will launch on January 1st 2011. Oprah is also said to be in talks to star as a brothel madam in an HBO film adaptation of Lynn Nottage's Pulitzer Prize-winning play, "Ruined."
Check out a clip from the Barbara Walters ABC interview below…
Your thoughts?
Be the first to receive breaking news alerts and more stories like this by subscribing to our mailing list.