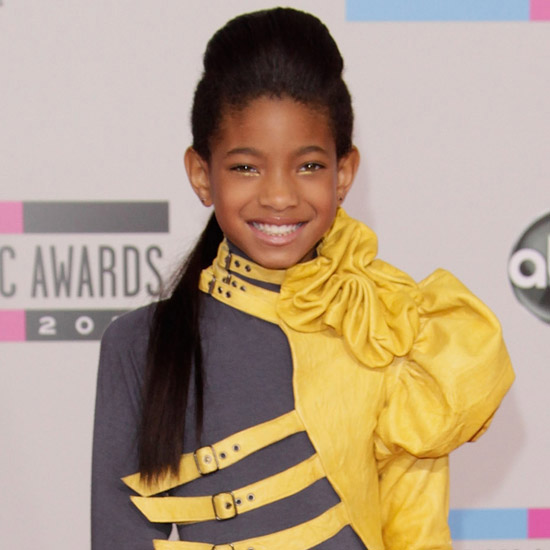 Willow Smith doesn't mind being compared to Rihanna. In fact, she says she'd "love to be a baby Rihanna!" And those are words directly from her mouth.
The 10-year-old Roc Nation artist, whose debut single "Whip My Hair" is one of the most played songs on the radio right now, chatted it up with Houston's 97.9 The Box and in addition to the Rihanna comparisons, she spoke on Tupac being her favorite rapper (he was her mom's best friend), meeting Jay-Z and more. Peep the full thing below!
On Rihanna comparisons:
"I think Rihanna's awesome, I'd love to be a baby Rihanna!"

What's in her iPod:
"Miley Cyrus, Lady Gaga, Beyonce, Billy Idol, B.O.B. Eminem, Tupac."

What do you know about Tupac?
"He's my mom's his best friend."

On her personal style:
"I dress myself."

On dealing with bullies and haters:
"Stay collected, strong, just be confident, if they go to far, beat them up, just kidding! Do you!"

On Meeting Jay-Z:
"It was really fun! He was really welcoming, and he was funny, supporting and I just felt welcomed."

Advice from Jay-Z, mom, and dad:
"Have fun!"

On cutting her hair:
"I was in china and all the boys had their hair cut so I was like I want to cut it." Willow is growing her hair out now and says the process is, "not very good."

On making "Whip My Hair":
"Producer Jukebox sent it to my mom and we looked at it and we realized we had to record it and we did."

On what she likes about Billy Idol:
"I like his song, I like the way he dresses and his hair."
Thoughts?
Be the first to receive breaking news alerts and more stories like this by subscribing to our mailing list.