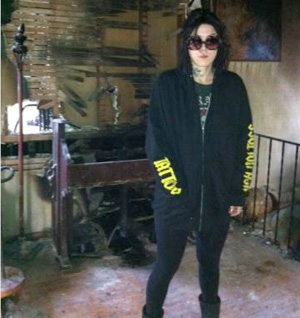 Kat Von D lost her home in a house fire over the weekend.
The "L.A. Ink" star, who made headlines a few months back when she started dating Sandra Bullock's ex husband Jesse James, took to her Twitter to announce the sad news, and says her pet cat was in the house when it went up in flames.
"My house burned down last night with my cat inside," she wrote. "Finally get to sleep away the remainder of today. Hope tomorrow is gentler. In order to gain everything, you must lose everything."
The fire, which occurred Sunday night (Nov 21) is still under investigation as authorities still have no idea what started it.
Kat Von D, who is currently promoting her latest book the "Tattoo Chronicles," is also blasting reports that she dumped Jesse James to get back with her ex boyfriend Nikki Sixx. She told USA Today:
"I'm not dating Nikki," she told USA Today. "We didn't get back together. Jesse and I didn't break up. I've known Jesse for a long time, since I was 22-years old. I think he's probably one of the most kind-hearted, intelligent human beings."
Be the first to receive breaking news alerts and more stories like this by subscribing to our mailing list.