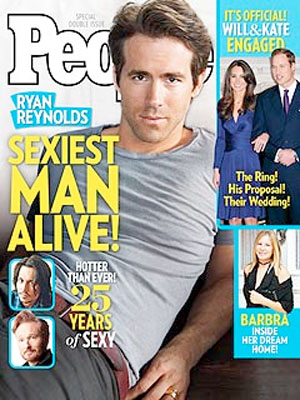 Ladies man Ryan Reynolds has been crowned People Magazine's 2010 "Sexiest Man Alive!" And while the "Green Lantern" star is honored to receive the prestigious honor, he says that maintaining his body is a challenge.
"My body naturally wants to look like Dick Van Dyke," the 6-foot-2 actor said. "When I stop training, I turn into a skin-colored whisper." He continued: "You just have to go with the flow. This gives my family entre into teasing me for the rest of my life."
Reynolds joked that his wife Scarlett Johansson (who was named GQ's "Babe of the Year" earlier this week) will be calling him by his new title when she wants him to do chores around the house.
"Now it's going to be, 'Sexiest man, take out the garbage.' That does sound better," Reynolds says. "The most difficult part is going to be organically working this title into a conversation with random strangers."
Reynolds beat out Drake, Bon Jovi, Matthew Morrison, Justin Timberlake, Robert Downey Jr. and other male celebs for this year's title. Past "Sexiest Man Alive" recipients include Johnny Depp, Matt Damon, Brad Pitt and George Clooney.
For more on Ryan Reynolds, pick up this week's issue of People Magazine when it hits newsstands Friday!
Be the first to receive breaking news alerts and more stories like this by subscribing to our mailing list.