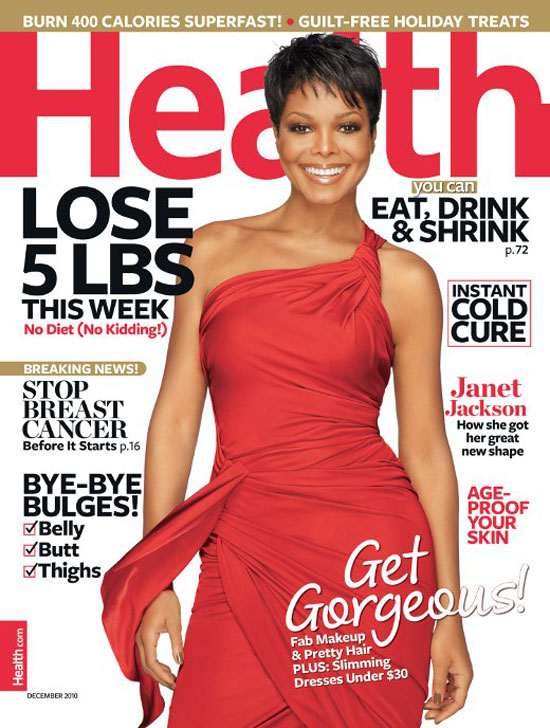 Janet Jackson looks absolutely gorgeous as she wears an elegant red dress on the cover of the December 2010 issue of Health Magazine. In the issue, the "For Colored Girls" actress opens up about body image issues she had growing up, including getting colonics at 11 years old and having her body criticized by TV producers as a kid. Check out a few excerpts below!
On being told to lose weight by TV producers as a kid:
"When I did Good Times, they used to bind my chest because I was developing breasts at a young age… It immediately makes you think, 'The way I am isn't good enough.' They thought I was too heavy and that I needed to lose weight. When I look back at the show, I was your average-size kid."

On choosing between being an actress or a singer:
"I have more of a passion for acting than I do singing, because singing comes so much easier to me. Acting is more of a challenge. I always say to people, 'I'm really in the wrong business because I don't like being in front of huge crowds, and I don't like it when a lot of people are looking at me.'"

On Hollywood's weight obsession:
"People tend to put entertainers on pedestals. We're human beings, just like you… whether we have money or not, we still have bills to pay, we still have our stresses."

On getting colonics at age 11:
"Once a month my mother would drive us to downtown L.A [for the procedure]. That played a big part in my life and career, because I learned at a very young age what discipline truly meant, to be able to pass up the French fries and the piece of candy."
Catch Janet Jackson in Tyler Perry's newest film "For Colored Girls," in theaters now!
Spotted @ YBF
Be the first to receive breaking news alerts and more stories like this by subscribing to our mailing list.