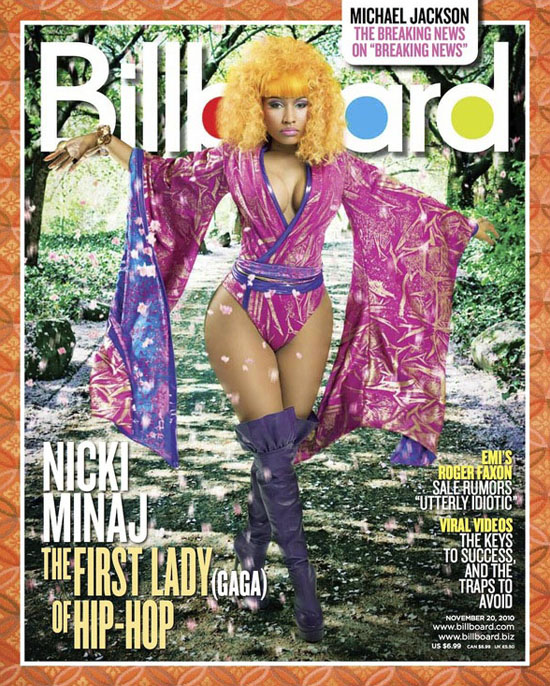 "The First Lady (Gaga) of Hip-Hop" Nicki Minaj is featured on the cover of the latest issue of Billboard Magazine. In the December issue, the Young Money rapper (gearing up for the release of her debut album Pink Friday) talks about getting respect from her male hip-hop counterparts, getting fired from her last job "like 15 times," getting kicked out of Young Money in 2009 and more!
Hit the link below for a few excerpts from the interview…
On getting fired "like 15 times" from her former job because of her bad attitude:
"The last job I had was as an office manager in a little, tiny room where I literally wanted to strangle this guy because he was so loud and obnoxious," Minaj recalls. "I would go home with stress pains in my neck and my back. That's when I went to my mother and said, 'Look, I'm not going back to work.' I'd been fired like 15 times because I had a horrible attitude. I worked at Red Lobster before that and I chased a customer out of the restaurant once so I could stick my middle finger up at her and demand that she give me my pen back. I swear to God I was bad."

On not being a typical New York rapper, even though she's from New York:
"When I started rapping, people were trying to make me like the typical New York rapper, but I'm not that," Minaj says. "No disrespect to New York rappers, but I don't want people to hear me and know exactly where I'm from. I wanted the album to be universal and versatile. It really feels like it speaks for every one of my personalities."

On taking lyrical advice from Jay-Z in Robin Thicke's "Shakin it for Daddy":
"I had never met Jay at that point, but he told Robin Thicke that if I did the song I should say, 'I be, I be, I be, I be, I be on that money shit.' So I took that line and just ran with it."

On getting respect in the industry:
"When I do songs like 'Monster,' when I'm on a record with Jay-Z and Kanye West, when I'm on a record with Wayne and Em — I definitely think the dudes give me respect," Minaj says. "They haven't come easy but I think people are starting to give me more props."

On demanding perfection from those that work with her:
"I push people around me but I don't push anyone more than I push myself," she says. "I tell people all the time, 'You want to work for me? You have to give 250,000%,' because when I'm in the booth, I don't half-ass it. I demand perfection from everyone around me and if you can't live up to that, then bye-bye."

On her becoming a "different human being" in the Eminem featured "Roman's Revenge":
"'Roman's Revenge' is where I've become a different human being," Minaj says. "I didn't give a damn who I offended, whose feelings I hurt — this needed to be said, and it cracks me up when I listen to it. I'm a maniac on that track. I knew true hip-hop fans would love this."

On getting (secretly) kicked out of Young Money in 2009:
"I started to record by myself and I lost track of what I was doing and who I wanted to be," she says. "It wasn't until I linked back up with Wayne that he gave me this speech. He said, 'What happened? You were hot,' and it just hurt me so much. I wanted to prove to him that I was still hot. It hurt my ego so bad that I went back with a vengeance."

Read More @ Billboard.com
Wow! We didn't know Nicki was kicked out of Young Money….they definitely kept that one under wraps pretty well, though we wondered why Nicki didn't tour with Weezy & co. last summer.
Nicki's debut album Pink Friday hits stores next Monday (Nov 22) and will feature collabs from Will.i.am, Drake, Rihanna, Lil Wayne, Kanye West, Eminem and more!
Be the first to receive breaking news alerts and more stories like this by subscribing to our mailing list.