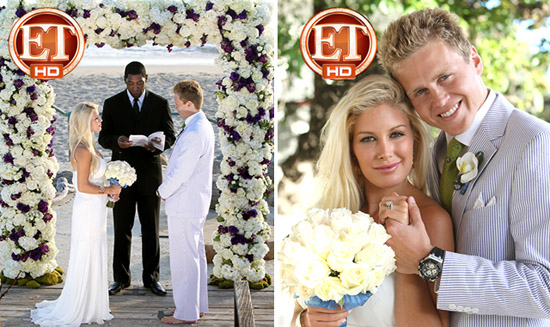 It seems like husband and wife pair Spencer Pratt and Heidi Montag will probably do ANYTHING these days for a little fame, fortune and Internet attention. And the pair proved just that by renewing their wedding vows over the weekend!
ET cameras were on the scene as "Speidi" tied the knot for the THIRD time, reaffirming their commitment to one another Sunday (Nov 14) in a wedding ceremony at a beachfront house in Southern California. This time, however, was different.
"[This time] it's just me and my bride on a little secret beach with nobody else and it's just about her," Spencer told Entertainment Tonight. "Versus last time it was about everything else, it was about drama, it was about ratings."

Heidi adds, "It was about everyone but us, so this is really our first wedding about Spencer and I and our love. Now I feel like I can finally just be Heidi and just be in a marriage and just be a person. I'm just really enjoying every day."
But wait…aren't they broke and planning on filing for bankruptcy? So how on earth did they afford a wedding?
Apparently, everything (including Heidi's Jenny Yoo gown, Spencer's Rik Ducar tuxedo, their four-tiered multi-flavored cake decorated with white chocolate seashells from Hansen's Cakes and rings from Alan Friedman) was donated to them. The financially struggling couple even received a 50% discount on their flowers from Sky Flowers!
Heidi and Spencer first eloped in Mexico in November 2008 before marrying again on their MTV reality show "The Hills" in April 2009. And earlier this year, the couple filed for divorce, which they later revealed was a sham to get attention for a reality show (that never went past the "idea phase") surrounding their split.
They say there's SOMEBODY out there for EVERYBODY. And clearly, Heidi Montag and Spencer Pratt are a match made in heaven! SMH…
Be the first to receive breaking news alerts and more stories like this by subscribing to our mailing list.