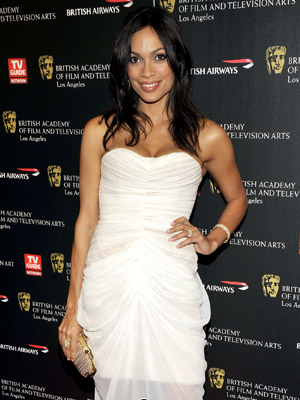 Rosario Dawson really wants to be a part of J.J. Abrams' next "Star Trek" film…..so bad that the actress has started a Twitter campaign to snag a role in the blockbuster. The actress tells movie website Collider.com:
"I love [Star Trek director] J.J. Abrams, and I've got a petition on Twitter about maybe I could be in the next movie, like a Klingon or something – I could just make a noise or speak some Klingon… I would be happy, I would be very satisfied."
Rosario says she tried to hide that she was a "Star Trek" stan from her "Unstoppable" co-star Chris Pine (who stars as James T. Kirk in the 2009 film), but…..too late!
"I am a big Trekkie, which finally just got disclosed to Chris. I've been trying to play it really cool and I had been pretty good at hiding it from him," she explained. "He clearly doesn't follow me on Twitter, because I'm pretty obvious about it. I was trying to play it cool with him, but now the cat's out of the bag."
To really get into character for her new movie "Unstoppable," which (in addition to Chris Pine) also stars Denzel Washington, Rosario says that she put in several hours of research and preparation, and even had the opportunity to meet with a real life female rail-yard manager, an inspiration for her character.
"We had a great opportunity, we found this amazing woman, Mary Alexander," Dawson recently told MTV News. Dawson said she got to pick Alexander's brain, and peppered her with questions about proper rail-yard vernacular, protocol and technical terminology.

In the film Dawson plays Connie, a headstrong rail-yard manager who, along with Pine and Washington's characters, goes up against her corporate bosses in an attempt to stop a train loaded with explosive chemicals from careening into a small town.

"To do that and know it was a woman who went through it, I was like, 'How did you work your way up? What did that feel like?' " she recalled asking Alexander. "You get those obvious clichéd things about a woman working in a men's industry, but you also get this : 'Listen, this is a high-stakes situation, this doesn't happen every day but when it does, you want capable people to be there.' To be someone composed and a leader in that, that's what I wanted Connie to be," Dawson added. "Not just a cool, spunky woman or a bitchy aggressive woman, but just the right person for the job."
Catch Rosario Dawson, Denzel Washington and Chris Pine in the brand new action film "Unstoppable," in theaters now!
Be the first to receive breaking news alerts and more stories like this by subscribing to our mailing list.