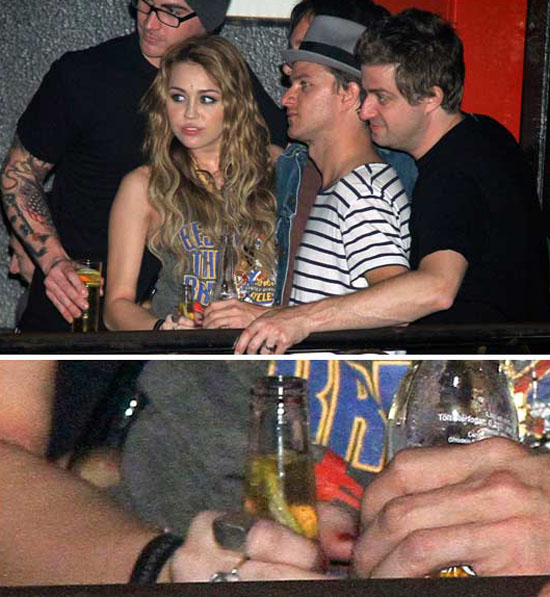 Miley Cyrus is currently in Madrid, Spain ahead of the MTV Europe Music Awards and was spotted partying it up a nightclub in the city with an ice cold glass of beer in her hand!
Celebrity photographers snapped a few pics of the 17-year-old former "Hannah Montana" star as she, surrounded by a group of guys, was holding what looked to be a Corona in the VIP section of a Madrid nightclub. The legal drinking age in the country is "technically" 18, however officials tell TMZ that underage drinking is allowed because it's simply "no big deal" to them.
Hit the link below for the details…
TMZ contacted several Spanish authorities who each confirmed the law … and then made it clear that underage drinking is simply no big deal in their country. One police officer told us … people as young as 16 are cool to consume "certain" beverages in Madrid — but the cop refused to explain what those beverages are.
But according to the International Institute for Alcohol Awareness….it IS big deal….to THEM. And even though Spanish officials say that Miley didn't break any laws, the head of the IIAA James E. Copple is concerned about other young people following in her lead and engaging in "risky behavior associated with underage alcohol consumption."
"The young people that see her as a role model could mimic the same behavior and as a consequence will go out and become intoxicated, putting their safety at risk," Copple told TMZ. "85% of young people who drink, drink to get intoxicated," he continued.
It's not like she was throwing back shots of Jose Cuervo or something. She was drinking a BEER in a country where doing that at her age is allowed for Christ sake! And in the pics, the bottle looks like it was pretty full to us anyway so she couldn't have been drinking THAT much (LOL).
Besides, her parents are going through a divorce. Maybe she just wanted a little somethin' somethin' to take her mind off of it for a few hours… (We kid, we kid!)
Be the first to receive breaking news alerts and more stories like this by subscribing to our mailing list.