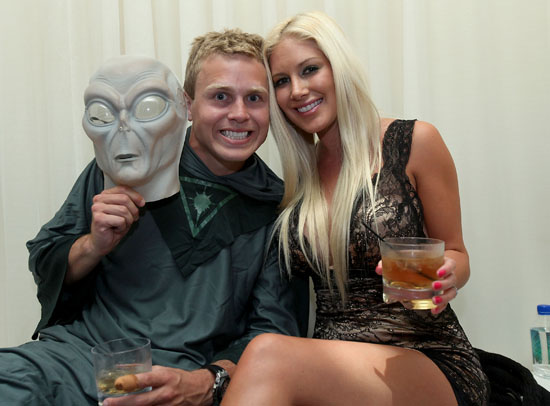 Heidi Montag and her husband Spencer Pratt are finally owning up to what anyone with a properly functioning brain already knew from day one…..their divorce was a SHAM! The MTV reality couple admits that they got a divorce to keep their names in the press, and Spencer says the he and his wife cooked up a plan to get attention by divorcing shortly after their anniversary.
Pratt says a British television network was interested in developing a series surrounding he and Montag's divorce, so they dropped some cash and moved to Costa Rica. However, the deal later fell through, and Heidi and Spencer "called off" their….."divorce."
Spencer tells Life & Style Magazine:
"The divorce was real — just the idea behind it was different than most people's. Divorcing was the only way to keep Heidi's career going because everyone hated me so much. Look at Sandra Bullock — her divorce from Jesse James was the best thing to happen to her image. I can't make regular money because I was playing such an unlikeable character on TV to keep my checks coming. Who wants to hire the jerk from The Hills?"
Heidi and Spencer also admit that they thought "The Hills" would make a lot more money in the long-run and that "Jersey Shore" blindsided them. And after throwing away $10 million on living the lavish life, they are now homeless and owe over $2 million dollars in unpaid taxes.
"We thought The Hills was going to be like 90210 and we'd have another five to 10 years," Spencer says. "The ratings were consistent. But we never saw Jersey Shore coming. Before, TV audiences were fine with seeing us all argue, but now they want you to punch one another in the face and hook up with three different people. Our cast was a bit boring and snoozeworthy in comparison. No wonder we got canceled.

"We don't want sympathy," Spencer tells Life & Style. "We did this to ourselves and feel like idiots. But we've grown up and are definitely not as naive anymore."
You don't want sympathy but you're doing all of these "tell-all" interviews and probably have yet another "reality show in the works." Get a life Speidi!
Be the first to receive breaking news alerts and more stories like this by subscribing to our mailing list.