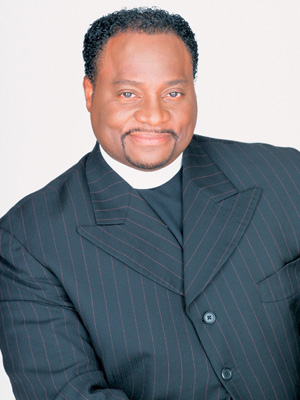 Bishop Eddie Long has officially gone on the record to deny each and every sexual misconduct accusation brought against him.
The Atlanta mega-church pastor was accused of coercing four young men into sexual relationships, and for the first time has categorically denied the claims one-by-one in a court filing this past Monday (Nov 1), claiming that he was simply a "mentor" for the young men who filed suits against him and his church back in September.
Ever since the first accusation was made public, Bishop Long has not directly spoke about the accusations, though his attorney did deny them on his behalf.
But all of that changed this week when the pastor specifically addressed the allegations by filing separate responses (nearly 30 pages each) to each of the four lawsuits.
Peep the full story below:
On Monday, Long filed four separate responses, each about 30 pages and denying each accusation point by point. He admitted that he took the men on trips, but he denied the complaints of sexual contact. He did admit to hugging some of the men. "Bishop Long admits that it is common among his church congregation for members to hug each other and hug the Bishop," the suit reads.

Long also admitted to giving the plaintiffs gifts, including cars, and helping them financially, but he denied that it was in exchange for sex. He said he has "provided sporadic financial assistance," and he routinely pays for rent and other expenses for New Birth members, according to the filings. In the filings, Long also admitted to speaking on the phone with the men, but said he could not recall who initiated the calls. He also admitted that the men called him "Daddy," "Bishop" and "Granddaddy," but said many members of his congregation called him similar names.

"Bishop Long admits that he mentors many young men from challenged backgrounds who have often been without the benefit of a male role model," according to his filings. In his filings, Long said he is a "bold revolutionary spiritual leader," and Long has built a ministry that places "special emphasis on outreach to men, reinforcing to men the importance of partnering with a ministry that will grow them spiritually."

Source: AJC
So in addition to "daddy" they called him "granddaddy" too??? WOW! Kinda strange if you ask us. And on top of that, what took so long for him to come up with these responses? Too many questions….not enough answers.
But….. WHAT ARE YOUR THOUGHTS?
Be the first to receive breaking news alerts and more stories like this by subscribing to our mailing list.