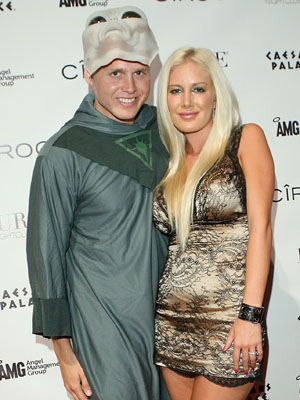 Our favorite "made-for-tv" couple Heidi Montag and Spencer Pratt have fallen on hard times.
The on-and-off couple that once starred alongside each other in the hit MTV reality show "The Hills" are now broke and are reportedly planning to file for bankruptcy!
Heidi and Spencer admitted to Life & Style Magazine that they carelessly threw away more than $10 million in an extremely short amount of time.
The couple say they spent nearly $40,000 per month on a rented home in Malibu, in addition to $3 million on Heidi's one-off singing career and hundreds of thousands of dollars on her dozen or so plastic surgeries and aftercare.
The couple also revealed that they also purchased 6 cars, healing crystals (WTF?) and rented several private jets. And after all of that, they owe Uncle Sam over $2 million dollars in taxes, are considering filing for bankruptcy and are now homeless.
Peep what they told Life & Style Magazine below…
"We thought The Hills was going to be like 90210 and we'd have another five to 10 years," Spencer says. "The ratings were consistent. But we never saw Jersey Shore coming. Before, TV audiences were fine with seeing us all argue, but now they want you to punch one another in the face and hook up with three different people. Our cast was a bit boring and snoozeworthy in comparison. No wonder we got canceled.

"At our lowest point, I considered posing for nude pictures in Playboy," Heidi, who had previously posed for the magazine clothed, admits. What stopped her? Spencer's parents' appeal for her to keep her clothes on in exchange for living in their guesthouse–a studio apartment. "I feel like I'm 14 years old again," Spencer says. "My parents are my lifeline." And for once, his statements aren't an exaggeration. "Spencer's parents go to the grocery store for us once a week," Heidi tells Life & Style, "and that's all we get.

"We don't want sympathy," Spencer tells Life & Style. "We did this to ourselves and feel like idiots. But we've grown up and are definitely not as naive anymore."
Be the first to receive breaking news alerts and more stories like this by subscribing to our mailing list.