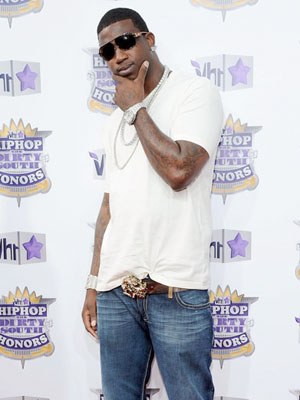 You CANNOT be serious!!
Rapper Gucci Mane was arrested in Atlanta, Georgia Tuesday after police allegedly found him speeding in his white hummer and driving on the wrong side of the road.
According to police, Gucci was charged with running a red light or stop sign, damage to government property, obstruction, no license, no proof of insurance and other traffic charges.
It was also reported that the rapper had gotten into a fight with another man, and resisted arrest so police had to use pepper spray in order to get him into custody.
Peep the full story below…
Mane, real name Radric Davis, was behind the wheel of his white Hummer around 11:30 a.m. driving "at a high rate of speed," per an off-duty cop. The officer quickly dispatched on-duty officers, who tracked the SUV to a nearby auto body shop, where Mane was involved in a heated argument.

When cops attempted to break it up, Mane allegedly struck the other man, whose name was not released. Mane refused to submit to police, according to the incident report, and wound up on the receiving end of some pepper spray. He was taken to Grady Memorial Hospital to be checked out before he was checked in to Fulton County Jail, where he remains with bond set at $2,500.

Source: E! Online
First T.I., and now Gucci, and Lil Wayne gets out this week…… We're starting to think all of this is somehow planned!!
But Gucci Mane really needs to chill out… Driving on the wrong side of the road with no license AND no proof of insurance? Then on top of that, you resist arrest? Wow…
Be the first to receive breaking news alerts and more stories like this by subscribing to our mailing list.