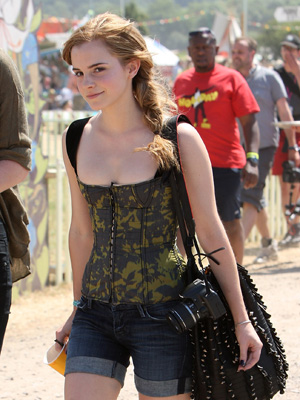 Until she had a "money conversation" with her father about two years ago, Emma Watson had no idea how much money she had stacked up from the mega popular "Harry Potter" movie franchise.
In a recent interview with Vogue Magazine, the 20-year-old actress said that she was living on a $75 per week allowance before she learned that she was worth over $30 million dollars, which she said makes her feel "sick" and "very emotional."
"By the third or fourth film, the money was starting to get serious," she told Vogue, according to published reports in the U.K. "I had no idea. I felt sick, very emotional."
Emma was just 9 years old when she was first cast to play "Hermione Granger" in the films and didn't learn of her million dollar fortune until she was around 17 years old. And when she found out she was worth over $32 million dollars, the British film star enrolled in a course at a bank to learn how to properly manage her money.
Watson, who was named Hollywood's highest earning actress earlier this year, admits that she is "straight and boring" and chooses not to read herself in the tabloids.
"It became weirdly addictive," she said. "There's tons that's not very nice and I'm very, very self critical, so it was like a drug for me. I focused on the negative stuff, so I stopped."
Now that Harry Potter is over, Emma Watson is studying at Brown University in the U.S. and has a new haircut in an effort to change her image up due to her contract saying that she's not allowed to cut her locks during filming.
"For the nine years I was on 'Harry Potter' I was contractually obliged not to cut my hair, not to tan," she told the mag. "All the normal things girls do, I couldn't. So when I got the chance to change my appearance, this is what I did."
Be the first to receive breaking news alerts and more stories like this by subscribing to our mailing list.