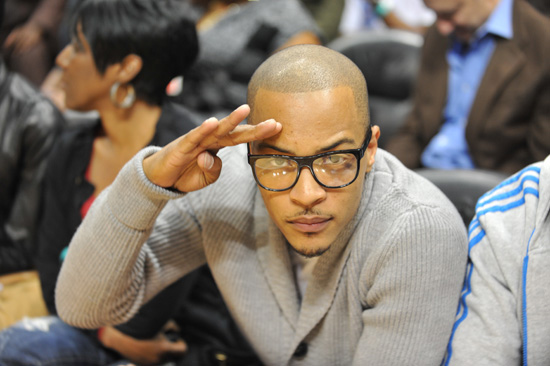 Just one week after officially being dropped from AXE body spray's promo campaign, T.I. is facing more bad news. The rapper has now lost an endorsement deal with Remy Martin (after becoming a spokesman for the company back in June) according to the following press release sent to Rap Radar:
"Sometimes the 'road to redemption' is a difficult path. Regrettably, we will not be able to continue collaborating with T.I. at this time. We wish T.I. well and hope he will devote his time and energy to staying the course."
But in spite of the bad news, comes a little good news. According to TMZ, the L.A. County District Attorney has rejected the drug case stemming from T.I. and his wife Tiny's arrest last month due to legal problems within the case. Peep the full story below…
As TMZ first reported, T.I. and his wife were busted back on September 1 for possession of a controlled substance. According to the D.A.'s Office, they are not going forward with charges because, in essence, he's already been sentenced to prison since the arrest was a violation of his federal probation.

However, law enforcement sources tell TMZ, there were significant legal issues over probable cause which led to T.I.'s arrest. Cops claimed they smelled marijuana but no pot was ever booked into evidence. And, we're told …T.I. was pulled out of his $250,000 Maybach immediately after he made the illegal U-turn and prior to any registration check.

Source: TMZ
If T.I. had been charged and convicted, he definitely would have had to serve more time. Recent reports suggest that the rapper is due to turn himself in next Monday (Nov. 1) to begin his 11 month prison sentence. Let's hope Mr. Clifford learns his lesson this time around and keeps himself out of trouble from now on…
Be the first to receive breaking news alerts and more stories like this by subscribing to our mailing list.