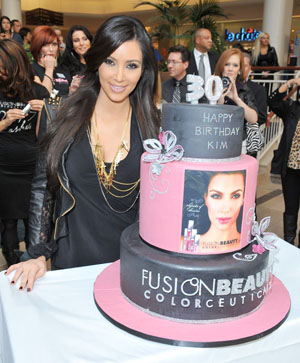 Celebrity socialite Kim Kardashian isn't all that excited about reports stating that she will be receiving a $1 million dollar cake for her 30th birthday!
In a recent interview, Kim told US Magazine that the whole idea was ridiculous and she'd rather the money be donated to charity.
"I'm seeing some ridiculous stories today about a million-dollar birthday cake being made for my birthday party. This is the first I've heard about this. I would never allow anyone to spend that much money on a cake. Making a million dollar birthday cake is just ridiculous! I'd rather they give me a cupcake and donate the rest of the money to the homeless!"
We feel you on that Kim! Only an idiot would spend that much on something that's edible. SMH.
Be the first to receive breaking news alerts and more stories like this by subscribing to our mailing list.