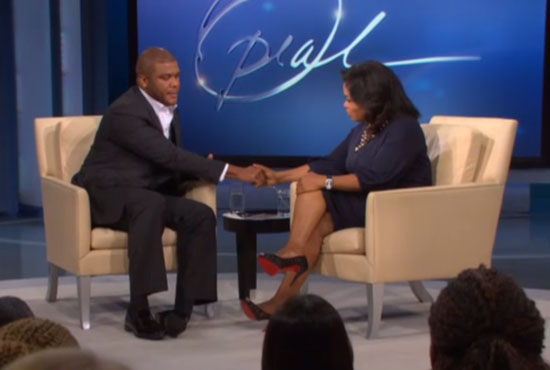 Filmmaker Tyler Perry opened up about his painful childhood on an episode of "The Oprah Winfrey Show" that aired yesterday afternoon (Wed. Oct 20). Perry spoke on everything from being molested by four different adults at a young age to being abused by his father and wanting to commit suicide.
Check out a few excerpts from the interview (along with a clip) below…
Being molested by four adults
Tyler told Oprah that he was molested by four different adults. The first was when he was 5 or 6 years old….and occurred while he and an adult male neighbor were building a birdhouse together.
"I was about five or six. With his hand in my pants, I thought, 'What is this?' And I felt my body betraying me, because I felt an erection at that age."
His next two encounters involved a male nurse and a man he knew from church.
"A male nurse at the hospital. And he was doing the same thing. … Then there was the man in the church who used God and the bible to justify a lot of the things that were going on. That was my first sexual experience – this man performing oral sex on me as a boy."
Perry's last encounter occurred when he was 10 years old and involved his friend's mother.
"I hear arguing from the living room, she comes in… We were in the bedroom. She throws him in the bathroom and says, 'You need to take a bath and go to bed,' and she tells me to go home, and I go to the door to try and unlock the door… and I couldn't unlock it. She lays on the sofa and spreads her legs – I didn't know she was wearing lingerie at the time – and I said, 'I have to go home…' And she lights a cigarette and she takes the key… and I come over to get it and she puts it inside of herself (vagina) and she tells me to get it, so I get the key but I feel my body betraying me… because I felt an erection. She pulled me on top of her and I was inside of her, so my first sexual experience with a woman… that was it."
Being abused by his father
Perry reflected on being physically abused by his father on a regular day basis and eventually having to run to his aunt for help.
"To this day, I don't know why he did it. But I remember him cornering me in a room and hitting me with this vacuum cleaner cord. He would just not stop. There are all these welts on [me], the flesh that's coming from my bone, and I had to wait for him to go to sleep. When he fell asleep, I ran to my aunt's house, and she was mortified when she saw it."
Wanting to Commit Suicide
Tyler also revealed during the interview that after so many beatings by his father…..he begin cutting his wrist and tried to commit suicide.
"I thought, 'What is the point of living? My mother was truly my saving grace, because she would take me to church with her. I would see my mother smiling in the choir, and I wanted to know this God that made her so happy. If I had not had that faith in my life, I don't know where I would be right now."
Your thoughts?



Be the first to receive breaking news alerts and more stories like this by subscribing to our mailing list.