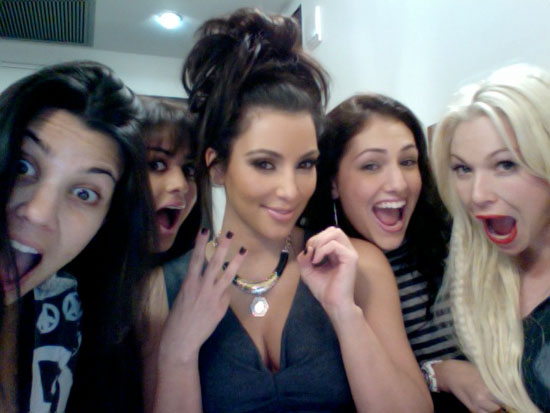 Today is Kim Kardashian's 30th birthday, and the celebrity socialite partied with friends last night in New York City (after partying in Toronto and Chicago as well) to celebrate the occasion!
When Kim and her friends touched down in NYC last night, she sent out the pic above along with the following tweet:
"UH OH The big 3-0!!!! Why does everyone call it The Dirty 30? Its The Flirty 30 to me! LOL"
Early this morning, she also mentioned how excited she was to see all of the happy birthday messages she's received so far from her Twitter followers.
"I woke up to the sweetest bday messages! Seeing all of your tweets will make me smile all day! I love u guys!!!!"
Kim recently did a nude spread for W Magazine, and even though she loves the way it turned out, don't expect to see anything like that ever again as the now 30 year old has vowed to never pose nude again now that she's hit the big 3-0.
"It turned out beautifully, and I love it," she said about the W magazine spread. "But I don't know if I'll pose nude again. I'm too old for that now… I wanted to get it all out of my system before I turned 30."
Kim also admits that she finds getting older a bit "nerve-wracking," but other than that, due to her accomplishments thus far, she says she "feels good!"
"It's nerve-wracking because now when someone says 'How old are you?' I have to say 30. It scares me a little bit. But I do feel accomplished, and I feel like I've gotten a lot done before 30. I feel good!"
Happy Birthday Kim!!
Be the first to receive breaking news alerts and more stories like this by subscribing to our mailing list.