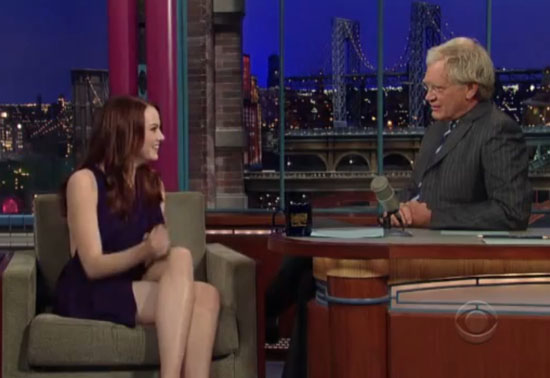 Emma Stone revealed to David Letterman last week that she and her mom got matching tattoos (designed by Beatles legend Paul McCartney) to celebrate her mother's win against cancer. After being diagnosed 2 years ago, Stone's mother was recently given the all clear, and the "Easy A" actress says the pair decided to celebrate the occasion with a little body art. Check out the interview below!!
"We've never gotten tattoos before and probably never will again. Two years ago tomorrow she got diagnosed with breast cancer, and she's out of the woods now, which is amazing. I wrote a letter to Paul McCartney asking him if he would draw two little bird feet – because he wrote the song – and yesterday he sent them to me."
The 21-year-old actress also told the talk-show host how she and her "Zombieland" co-star Woody Harrelson paid a visit to McCartney at his home where they ate a healthy vegetarian meal.
"He made us veggie burgers …It was so good," she said jokingly. "But can you imagine if I was like, 'Well, the burgers were a little overcooked?"
Be the first to receive breaking news alerts and more stories like this by subscribing to our mailing list.