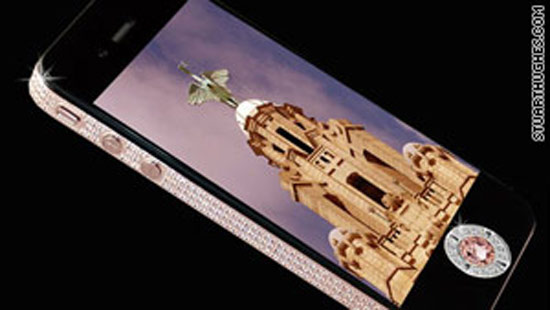 This is insane!
An $8 million dollar iPhone 4 went on sale this week. Two questions: One. Why on earth would someone want to pay $8 million dollars for a phone that is only worth a few hundred dollars? And two. What on earth does it take for a phone to be worth millions of dollars???
Peep the full story below:
The world's most expensive phone was made by British jeweler Stuart Hughes and contains 500 individual flawless diamonds, totaling more than 100 carats.  The Apple logo on the rear of the device was formed using rose gold and the main navigation was made from platinum and holds a single cut 7.4 karat pink diamond. The gadget was specially made for a very rich Australian business man….and according to Hughes more than likely won't be getting used much.
"It was a fantastic challenge and I am really pleased with the end result — the phones look superb Phones are so popular at the moment and this is the ultimate design for one. It was a very exciting project. The diamonds are rare and difficult to source, stones like that usually have a very long history. It is amazing that someone is prepared to spend £5 million on a phone, I doubt it will get used because it is worth so much money. It would be a disaster if it was ever lost."
This guy must really have some cake. We hope he gets that thing insured!!
Be the first to receive breaking news alerts and more stories like this by subscribing to our mailing list.