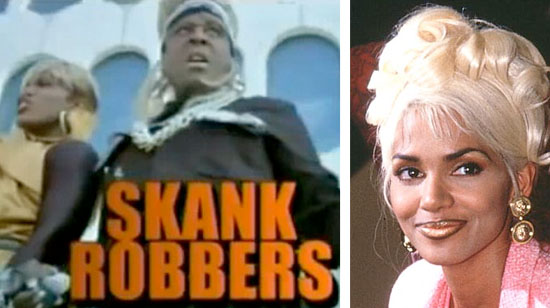 Remember that hilarious Jamie Foxx/Martin Lawrence "Skank Robbers" skit that debuted the night of the 2010 BET Awards this past summer? Well, if you liked it (which we're pretty sure you did) we have some good news!
According to S2S Magazine, Jamie and Martin have turned their one-off parody into a real movie, and word is, they grabbed Halle Berry for a role! Peep the full story below:
What started out as a joke for Jamie Foxx and Martin Lawrence is now an actual movie, and they managed to snag Halle Berry.

You could say that Skank Robbers pulled a move like Machete, going from one-time skit to major-film project. When audiences saw a fake teaser for Skank Robbers at the 2009 BET Awards, it was so popular that Screen Gems picked it up for development. Up until now, there hasn't been too much more talk about Skank Robbers, but when "Extra" recently caught up with Jamie, he revealed some exciting tidbits about the project and its plot.

"We rob banks from northern California to southern California. Halle's in it, so it's going to be hot," Jamie confirmed to "Extra" without giving any specifics on what role Halle may play in the film.

This announcement makes Halle the first cast member, outside of Jamie and Martin, to be confirmed for the film, due out some time next year.

Source: Crunk & Disorderly via S2S Magazine
Wanda, Sheneneh Jenkins AND Halle Berry on one screen??? We can't wait!!!
Be the first to receive breaking news alerts and more stories like this by subscribing to our mailing list.