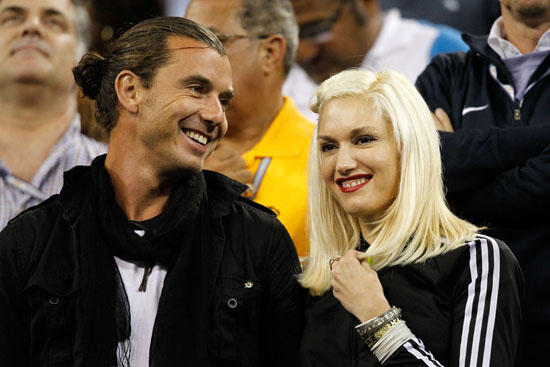 Apparently Gwen Stefani's husband Gavin Rossdale has been down the Hershey Highway before…….if you know what we mean.
In a recent interview with Details Magazine,the 44-year-old rocker admits to having a one-off relationship back in the 80's with a cross dressing pop singer named Marilyn. Boy George accused Rossdale of this back in 1995 apparently, and Rossdale has never spoken about it … until now.
Rossdale also talks about his wife and how they met, along with how he felt when he found out he has a 21-year-old daughter, and more. Check out a few excerpts below!
Details: You met your wife, Gwen Stefani, while touring with No Doubt in 1995. Do you remember your first date?
Gavin Rossdale: I threw a party in New Orleans just as an excuse to hang out with her. We drank a bunch of hurricanes and went around the French Quarter. We had our first kiss that night, just walking around, being careful to step over the puddles of pee. The next day we had that sort of cute, embarrassed, sober meet-up.

Details: You have two sons together—Kingston, 4, and Zuma, 2. Who's on diaper duty at home?
Gavin Rossdale: Whoever's nearest, really. We have good people around us. If there's no one there, I can do it, but otherwise I sort of slide away—I get very interested in my BlackBerry at that point. A friend once told me, "By the way, they never thank you for changing their diapers when they grow up, so don't sweat it." I thought it was good advice.

Details: Is it true you and Gwen bathe together to conserve water?
Gavin Rossdale: The first half is true, maybe not the latter. Or, the ecological benefits are a healthy consequence.

Details: Keep your romance alive, save the planet?
Gavin Rossdale: Exactly! And stay clean! But no, we don't stage bath-ins.

Details: In 2004, you learned you have a daughter, the now 21-year-old model Daisy Lowe. How do you shift from being a dad to toddlers to being a dad to an adult?
Gavin Rossdale: With the boys it's traditional: I'm all they know, and I'm with them all the time. With Daisy, I don't know her in that context. The way I nurture those boys, I never got a chance with Daisy. I love my connection with her, but I don't have any say in who she is. With the boys it's my job to correct them and shape them. With Daisy, I just have to be respectful. I suppose it's more like a friendship.

Details: Last year, the cross-dressing pop singer Marilyn revealed that he was romantically involved with you in your teens—an assertion Boy George first made in 1995. Why haven't you talked about those claims?
Gavin Rossdale: I think at the outset there was a sort of fear—that was right at the beginning of Bush, and I didn't want it to be part of it. It felt like a cheap shot, so I was like, "I'm not getting involved." I've never wanted to appear closed about it. It's not something I've talked about really because it's always been in the glare of a tabloid world. It's just one of those things: Move on. When you're 17, Jesus Christ. I don't think there's anything strange about any form of—you're learning about life. It's a part of growing up. That's it. No more, no less.

Details: So it was just a one-time experimentation?
Gavin Rossdale: Yeah. That was it. You have to know what you like, and I know what I like.

Source: Details Magazine
Wow!!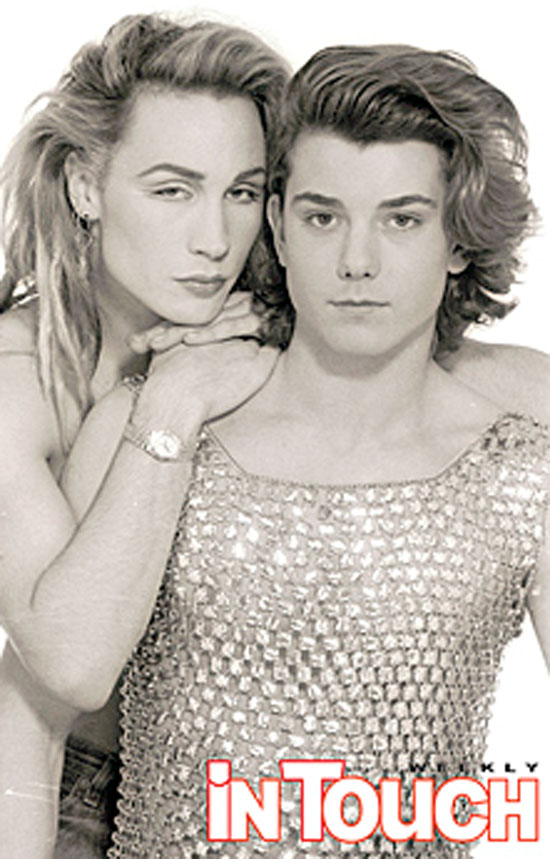 And get this, last year, Marilyn told In Touch Weekly and talked about this very same thing, but his story is a little different. He says that he and Gavin were in a 5-year relationship, and the only reason it was kept a secret was because Gavin wanted it that way.
"He was just becoming successful in America," Marilyn explains. "I agreed to lie against every grain of my being."

Now, Marilyn wants to set the record straight. In an exclusive interview with In Touch, the British pop icon details the love affair that spanned the early '80s. "We were together five years," Marilyn says. "But it felt like 40."
At the time of the interview (April 2009), his rep denied the story and maintained Gavin's original story that they were "just friends." We wonder what his reps (and his wife) have to say now!! SMH…
Be the first to receive breaking news alerts and more stories like this by subscribing to our mailing list.