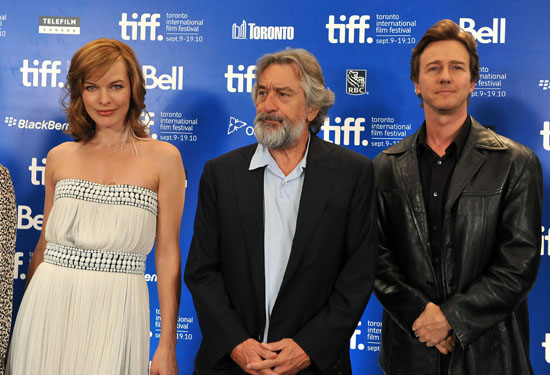 Ukraine born actress Milla Jovovich, best known for her work in the "Resident Evil" film series, stars alongside Hollywood superstars Robert De Niro and Edward Norton in the upcoming movie "Stone." In the movie, Milla Jovovich and Robert De Niro have a few love scenes and one part in particular is an actual sex scene. Jovovich recently spoke with MTV News about how she and De Niro got themselves together for the bedroom scene. Check out what she said below:
"We didn't talk about it much beforehand," Jovovich said. "At the same time, I just wanted to make sure he was OK. We were sort of sliding around a little bit on these silk sheets. So it was like, 'Bob, are you OK? Can I fix the pillow?' And he was like, 'No, it's good, thank you.' "

Jovovich went on to say that despite any preconceived notions, the esteemed Oscar-winner is a sweetheart. "You know he's a very sweet man and I think a lot of times … obviously everybody has seen all of De Niro's movies, so you get this picture of him that I think his films really influence [your perception]," she said of De Niro's history of playing "these kind of fringe characters." "And so, of course, you come on set expecting him to be these characters when he isn't. I mean he's a really sweet guy and he's a really normal guy. Like Edward said, everybody has their process," she added. "You just have to be ready for anything."

Norton also seemed to echo Jovovich's warm feelings about co-star De Niro. "When I found out he was in ['Stone'], and he rang me up too and said, 'This could be really good for us,' that was exciting," Norton recalled to MTV News. "I definitely felt that this will be good for us, and we know each other's rhythms and we can really mix it up in a way that would be thrilling to me."

Source: MTV News
Be the first to receive breaking news alerts and more stories like this by subscribing to our mailing list.