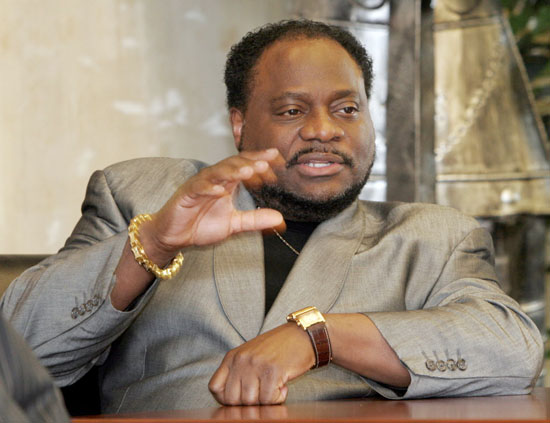 This Bishop Eddie Long sex scandal story gets crazier by the day! Apparently this isn't the first time the New Birth Missionary Baptist Church pastor has been accused of messing around with young boys.
Talk show host and best-selling author Reuben Armstrong tells the Examiner that he exposed Bishop Long on his talk show back in 2006 after youth pastors from Long's church came to Armstrong for help. Armstrong also addresses this particular type of abuse in his best-selling book "Snakes in the Pulpit," which held a spot in Essence Magazine's best seller list for more than a year. And now that all of this has come out about Bishop Long, people are starting to look into Armstrong's accusations in a totally different light.
Click below to read the full story!
Armstrong has talked and wrote about the alleged "child predator" Eddie Long to the point where people blamed him for starting rumors. Two youth pastors from New Birth Missionary Baptist Church contacted Reuben Armstrong in 2006 because of his well known status of going after the truth. The youth pastors where looking for help from Armstrong. They wanted Armstrong to bring to light what they had witnessed at the New Birth Church, especially with their Pastor, Bishop Eddie Long.

The youth pastors claimed that Bishop Eddie Long was having sex with some of the boys in the church. They were very upset about this and did not know what to do. They reported that there were others aware of this situation, but people were afraid to come out and talk about it. The youth pastors allegedly "feared for their lives" if their names were to be known. The youth pastors told Armstrong that Bishop Long was grooming some of the young boys he had chosen to become his sexual partners.

They reported Long lavished the young boys with gifts and had even taken them on trips. Bishop Long was also paying for some of the college tuition for these boys. The youth pastors believed that Long knew which children to target, Armstrong said. He was told that the boys were children of single mothers with no father figure in their lives. Long would treat them like they were his own sons. Once he gained their full trust and love, Long would allegedly start the sexual abuse. Armstrong says that "Eddie Long is a very powerful man in the south, and the youth pastors were afraid to go to the authorities. The ramifications for coming out with this story could be long reaching and that scared the youth pastors," said Armstrong.

Armstrong made this a very frequent topic on his talk show, but because Bishop Long has tens of thousands of followers and is considered such a religious icon, no one believed this and accused Armstrong of starting rumors about Long. With the four young men filing lawsuits claiming that Bishop Eddie Long sexually abused them, people are starting to realize there may be some truth in all of this. The lawsuits may just be the start of Bishop Eddie Long's demise. Armstrong believes that "Bishop Long is a child predator" and he has written about this in his books and he has talked for years about this on his talk show.

Source: The Examiner
Be the first to receive breaking news alerts and more stories like this by subscribing to our mailing list.