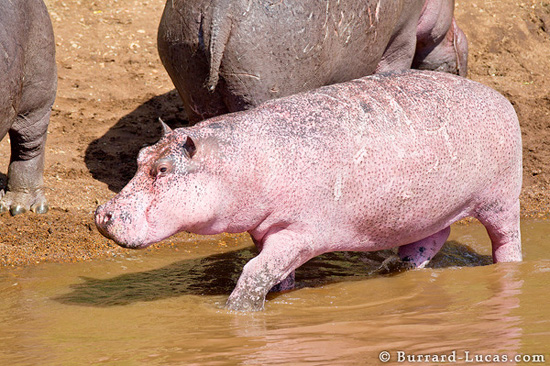 If you're seeing pink elephants, it usually means you're drunk. But if you happen to come across a pink hippo? Chances are you're in Kenya!
A rare, pink hippo was spotted by a couple of nature photographers on a recent expedition to the Masai Mara in Kenya. The photographers, Will and Matt Burrard-Lucas, wrote the following on their blog:
"We have just returned from a trip to the Masai Mara in Kenya where we were photographing the annual wildebeest migration. After a rather uneventful morning, we stopped on the banks of the Mara River for a picnic breakfast. It was then that we came across a truly exceptional individual… just as we started to tuck into our breakfast, we looked up and gawked, open-mouthed, as a pink hippopotamus emerged from the river! Hippos are usually dark brown in colour, so this individual was very conspicuous! We dropped our breakfast and reached for our cameras."
After spotting the hippo, the photographers, Will and Matt Burrard-Lucas, pulled out their cameras and captured dozens of pictures of the crazy-looking animal who they believe isn't considered to be "albino," but "leucistic." Albino means an animal is lacking a specific type of pigment (melanin), while leucistic animals have reduced pigmentation in ALL types of pigment in the skin.
"As wildlife photographers, it is always exciting to photograph something a little bit different," the photographers said. "We hope that it goes on to live a full and happy hippo life and that visitors to the Masai Mara can continue to marvel at its fetching pink rump for many years to come!"
What do you think about the pink hippo?
Be the first to receive breaking news alerts and more stories like this by subscribing to our mailing list.