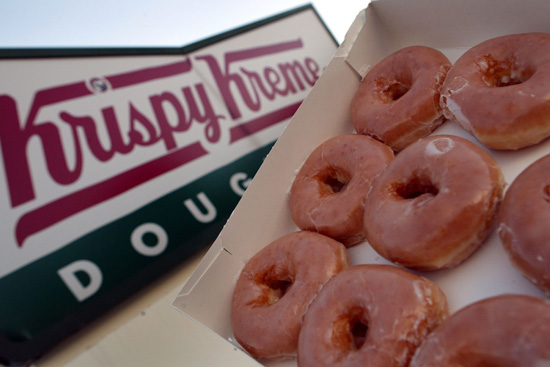 Everyone's favorite doughnut company has set up shop in Thailand! Krispy Kreme Corporation announced today (Tues. Sep 28) that their franchise, KDN Company Limited, has opened their very first Krispy Kreme doughnut shop in the Kingdom of Thailand.
The new store is located in the Siam Paragon, a high-end shopping mall that boasts a wide range of luxury brands, concept stores and fancy dining establishments, and is located in the heart of the Bangkok business district.
"As we continue the expansion of our brand around the world, we are thrilled that now consumers in Thailand will be able to share in the unique Krispy Kreme doughnut experience," said Krispy Kreme President – International, Jeff Welch. "KDN Company Limited is led by an accomplished group of business professionals, and we believe they will be a strong franchise partner for Krispy Kreme. We have great confidence in their ability to represent our brand and offer one-of-a-kind Krispy Kreme products to the Thai consumer.

"We are very happy to be part of the growing international Krispy Kreme family," said Ausanee Mahagitsiri, chief executive officer of KDN Company Limited. "The team here is excited to bring smiles to the Thai people by sharing exceptional Krispy Kreme products, especially the hot Original Glazed doughnut, with consumers in Bangkok."
Currently, Krispy Kreme, an international retailer of premium-quality sweet treats (including its signature Original Glazed doughnot), can be found in 21 countries, including the United States, Australia, Canada, China, Japan, Puerto Rico, the Republic of Korea, the King of Saudi Arabia, the United Arab Emirates, Turkey and the United Kingdom.
MMMMmmmmm……We could really go for some Krispy Kreme glazed doughnuts right now!! Is the HOT sign on???
Who's in the mood for some hot Krispy Kreme doughnuts?
Be the first to receive breaking news alerts and more stories like this by subscribing to our mailing list.