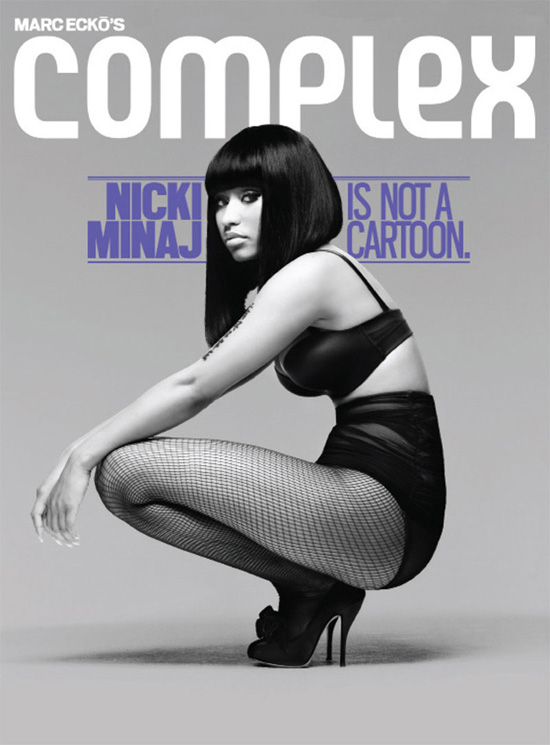 Nicki Minaj covers the second version of Complex Magazine's October/November 2010 Fall issue (Kid Cudi is featured on the alt. cover). In her cover story, the Young Money femcee shares her thoughts on being known as the savior of female Hip-Hop, her crazy voices/antics, her being the "boss" of her own career so early on, learning from Lil Wayne on how to handle beef and A LOT more. She even touches on her sexuality Definitely an interesting read and a deeper look at the woman who's taking the Hip-Hop game by storm!
Check out a few excerpts (along with a few SEXY outtakes from her photoshoot) below:
Complex: You've said in recent interviews that you want to tone down the sexual content in your music. What prompted that?
Nicki Minaj: On "My Chick Bad," I had to show people that I can spit a verse without sex or talking about how good I look. I'm actually timid when it comes to being overtly sexy, which is weird because in the beginning people thought of me like some freakin' porn star. Guys reference sex all the time in their raps—I can't even think of a record where Wayne doesn't talk about sex—but when a female does it, people start tuning out. Then this gay dude the other day told me, "I say to dudes, 'Maybe it's time to put this pussy on your sideburns.'" I was crying laughing and I was like, "I can't take this shit out of my act." People live for that shit. [Laughs.] I just have to balance it a little bit.
Everyone has this image of you as a cartoon character with outlandish wigs, but at our shoot today you were much more low-key.
Nicki Minaj: [Laughs.] Every woman is a character—but people need to see I'm a regular human. It's like you wear a pink wig and you're no longer human all of sudden. You're a thing. Like today [the photographer] was like, "Where is that Nicki Minaj smile?" But this shoot doesn't call for the Nicki Minaj smile. You guys wanted me subdued, so I'm gonna give you a different side. I'm not gonna pull a string and be like, "It's Barbie, bitch!"

Is it intimidating to know that, besides The Miseducation Of Lauryn Hill, there are very few indisputable classic female rap albums?
Nicki Minaj: I want to do well, but I don't think I'm intimidated. People's expectations of what I'm capable of doing are very low. People have been used to hearing little one-liners and me play around.

You think people still underestimate you, even with the success you've been having?
Nicki Minaj: Absolutely. A lot of people don't know I wrote all the hooks on the album. I arranged the music, did the transitions. [Other female rappers] are told what to do, but I run my entire empire; I don't think people would expect that.

Was it hard for you to get that latitude from the label?
Nicki Minaj: My generation is creative; all we need is a Baby or a Slim to back us. We don't need you to tell us what to do, but we need you to nurture our decisions, and I think Cash Money understands that. I didn't have Wayne obviously, since he's been in jail, so there wasn't anyone I could have called and asked for help. Actually, when I've relied on people in the past is when I've made the biggest mistakes. When I trust my gut, I win.

What are some of your biggest mistakes?
Nicki Minaj: I won't say.

Were they recent mistakes?
Nicki Minaj: Yeah.

Recent as in "Massive Attack"?
Nicki Minaj: [Laughs.] Next question.

What has Wayne's involvement been on the album?
Nicki Minaj: He really hasn't had any involvement on it. But to be honest, the album doesn't sound like Wayne. I mean, he's my biggest influence, but it doesn't sound like Wayne's stuff. It sounds like Nicki.

You have the smash single "Your Love" out right now. When did you record it?
Nicki Minaj: Two years ago, before I dropped Beam Me Up Scotty. I loved the beat and the hook, but I didn't like my delivery on it; that's why I re-recorded it when it leaked. [Before it leaked] I was like, "This is going in the trash."

When you look at the two singles you've had so far, "Massive Attack" is more experimental and "Your Love" is more conventional. Does it bother you that people were less receptive to something different?
Nicki Minaj: It was a good lesson to learn early on. I actually think the public made the right choice.

What was the lesson?
Nicki Minaj: To just go with my heart and my first instinct.

So your first instinct wasn't "Massive Attack"?
Nicki Minaj: You're making it seem that way. I didn't say anything.

It's just the way you looked down…
Nicki Minaj: Why are you looking at my eyes?

Should I look somewhere else? I don't want you to slap me.
Nicki Minaj: [Laughs.] I don't want you to read into my eyes, just listen to what I am saying. When I first heard ["Your Love"], I loved it; I played it for Wayne and he yelled at me. When we were working on Young Money's album, I played him just the hook and the beat. He can't remember it, though. To this day, he's like, "Nah, I ain't never heard that." But he heard it and was like, "What the fuck is this?" I think that's one of the reasons I fell back on it.

Where do all your different voices come from?
Nicki Minaj: I have no idea. I think Wayne kind of influenced that. He has always been really carefree when he raps and I was like, "I don't have to stay in one cadence or stay in one tone when I rap—I can just do what I want."

But you've been saying in recent interviews that you might tone down the voices.
Nicki Minaj: Sometimes the shit I say is over people's heads and I feel like I need to dumb it down a bit so people can understand it. I think if I had said a lot of raps in a particular voice, people would go, "Yo, that shit was hard"—but when you change up your voice a little bit, they can't see past that. And they're lookin' at me like, "This bitch is stupid"—and I'm lookin' at them like, "No, bitch, you're stupid." [Laughs.]

So on your album and going forward, you're going to mellow out on the voices?
Nicki Minaj: I definitely made a conscious effort to tone the voices down a little bit.

Did the label or management talk to you about it at all?
Nicki Minaj: Again, I run my empire. Does that answer your question? No one tells me anything unless I ask their opinion. No one can make a decision for you. Not if you're the boss.

The successful female rappers that have come before you each had a strong male counterpart. How do you make sure people don't say Lil Wayne is pulling the strings on your career?
Nicki Minaj: I always keep Nicki Minaj separate from Young Money. I allow Wayne to call the shots when we do group albums, but when I do other things and have other choices, I don't necessarily need everyone's go-ahead. I write my own raps, I go in the studio by myself. There are some female rappers who can't go in the studio unless they have a ghostwriter sitting right next to them. I'm the complete opposite—I'll go in and ghostwrite for someone.

It seems like Young Money as a whole doesn't get caught up in beef. Has Wayne sat you or Drake down and advised you to avoid that route?
Nicki Minaj: He's definitely told me, "Yo, leave that bullshit alone. That's for people who ain't got shit else to do." I've watched Wayne handle himself so well. I've seen people take shot after shot after shot at him and if it fazed him, I never saw it. People take shots because they're hoping for a little bit of your energy. They need fuel.

How hard has it been not to respond when people take shots?
Nicki Minaj: It's not hard when you're making a lot of money and everything you do is sold out, and people adore you and little kids are crying just to take a picture with you. I'm laughing all the way to the bank, just like Wayne said. Young Money is good.

Speaking of Young Money, did your labelmate Drake tell you he'd be mentioning wanting to marry you on his verse for "Miss Me" before you heard it?
Nicki Minaj: He told me he said something about me on a verse, but I didn't think it would be anything like that. He let me hear it for the first time when we did Jay's show at Madison Square Garden, the day before Wayne had to go to jail—that night he let me hear it on the headphones. But you know what else he told me he wrote for me? The Alicia Keys song "I'm Ready." I happen to love the song. I never told anyone that, I hope he won't get mad that I said that.

Then you have Wayne calling you his future wife.
Nicki Minaj: [Laughs.]

You're gonna have Drake and Wayne fighting over you.
Nicki Minaj: You have no idea how much I love them. We joke around. That's the thing about Young Money, we will say a lot of crazy shit in the press but we will get around each other and start cracking up laughing like brothers and sisters. Drake is a playboy. He probably told mad bitches he wrote them songs for 'em.

Do the guys in Young Money ask you for dating advice?
Nicki Minaj: They always ask me to hook them up with something!

Drake asks you to hook him up with chicks?
Nicki Minaj: Well, no, Drake knows better. [Laughs.] Drake tries to be the suave dude and not seem pressed, but Wayne will straight-up ask: "Nick, you got something for me?"

There's been a lot of speculation about your sexuality in the press. Your verse on Usher's "Lil' Freak" adds to the buzz that you're bisexual.
Nicki Minaj: When I rap, it's just an extension of how I speak, and that's how I talk. If you don't like it, don't listen. I'm also not going to explain something just because I said it in a rap. Take what you want from it. [In the press] I didn't say [I don't like women]. I said I don't have sex with women. I don't have sex with men right now either. If [bisexual is] what they wanna call me, then fine.

So right now Nicki Minaj is celibate?
Nicki Minaj: Yes, and I encourage all my young Barbies to do the same. I just don't have time.

Sex doesn't take that long, I can tell you that right now. I'm talking seven minutes—and that includes foreplay.
Nicki Minaj: [Laughs.] Oh my God! Maybe it's because we don't need that physical stimulation all the time. I can just have a daydream and it does it for me.

Or maybe it's the Rabbit.
Nicki Minaj: [Laughs.] What?

That vibrator is making men obsolete.
Nicki Minaj: No, I don't got no damn Rabbit, you lunatic.

You know, you kinda put Diddy and Cassie out there on "Lil' Freak."
Nicki Minaj: How did I put them out there?

They never speak in the press about being together, and you say, "I'm plotting on how I can take Cassie away from Diddy."
Nicki Minaj: Oh! Did I do that? [Laughs.] Sorry.
Be the first to receive breaking news alerts and more stories like this by subscribing to our mailing list.