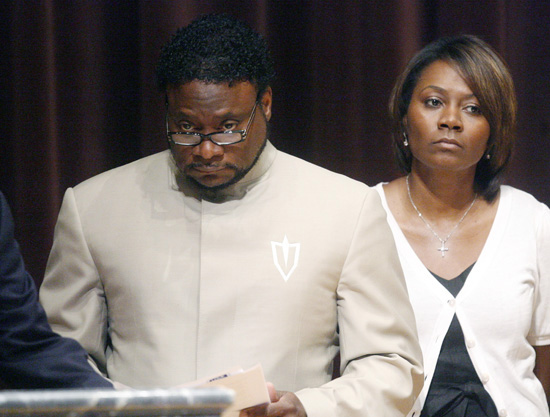 Bishop Eddie Long spoke out for the first time (publicly and himself) Sunday (Sep 26) in regards to the shocking allegations brought against him by a group of young men who claim that the Georgia pastor enticed them into having sex with him in exchange for money and expensive luxury items, including cars, clothes, jewelry and more.
Long received a round of applause from his church members as he stepped up to the podium, and in a nutshell, said that he will fight the allegations of the four young men, who are now in their 20s, but say that this has been going on since they were teenagers. And while he stayed away from discussing the specifics of the lawsuits during Sunday morning service, Long did deny the allegations at a press conference that followed.
"I feel like David against Goliath, but I've got five rocks and I haven't thrown one yet," Long said to his congregation who met the bishop with a rousing applause and standing ovation as he left the podium.
Bishop Long, who is the pastor of New Birth Missionary Baptist Church and has a congregation of over 25,000 members, also said that he would NOT be stepping down in light of the claims brought against him, going against previous reports claiming that the 57-year-old husband and father (of four sons) would step down as pastor of the Lithonia, Georgia church.
Check out the ENTIRE 20 minute plus "sermon" below:
Be the first to receive breaking news alerts and more stories like this by subscribing to our mailing list.