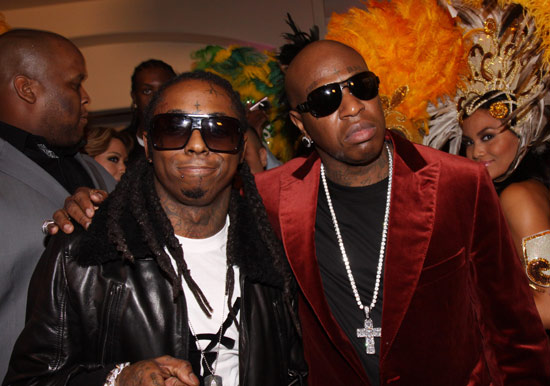 Cash Money C.E.O. Baby may be the king of popping bottles…but this year won't be the same.
In an interview with MTV, Baby says that it hasn't really kicked in yet that he won't be celebrating his son Lil Wayne's 28th birthday today with him.
"It ain't kicked in. My family, I like to do things for him for his birthday, you hear me? This the first time we not gonna get a chance to do that. But he is putting a new album out called I Am Not a Human Being. We pop bottles for him while he's gone."
But despite Wayne being behind bars on his day of birth…he is still releasing a new album today called I Am Not a Human Being. And for those who may have doubted him at all…Birdman reassures that the album is something serious!
"When Wayne do what he do, he takes serious pride in his work. Nothing we do is half-stepping or half-cocked. I think it's a great album. To me, he's switching back. This album has no Vocoder; he's back to raw rap. He's just rapping how he's feeling. He's a genius, so the music is always gonna be great. He wanted to put I Am Not a Human Being out to show people he's always in the building. Every album we put out, we're going to do the most. We're gonna go for it. We're never gonna come half- cocked. You expect to see a lot, you gonna get a lot. It's a great album."
Happy Bday Weezy…
Be the first to receive breaking news alerts and more stories like this by subscribing to our mailing list.