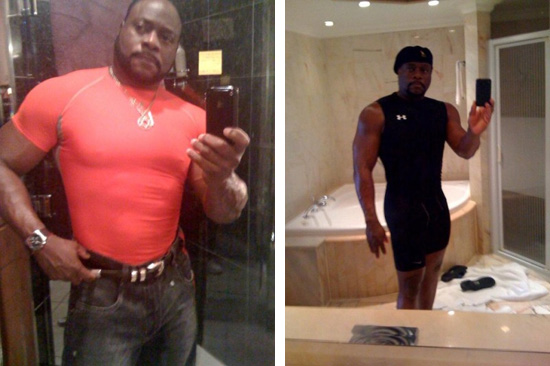 Bishop Eddie Long is currently at the center of a huge sex scandal involving four other men — 23-year-old Jamal Pariss, 21-year-old Anthony Flagg, 20-year-old Maurice Robinson and a currently unidentified young man — who are all members of the congregation at his church in Lithonia, Georgia. Above are VERY SUSPECT cell phone shots Long allegedly sent to the young men.
The New Birth Missionary Baptist Church pastor was sued this week after two of the four young men teamed up in a lawsuit alleging that Long coerced them into have sex in exchange for money, cars, expensive clothes, international trips/vacations, and more. In their lawsuit, the men say this has been going on for years and are seeking a trial by jury and unspecified damages.
Long denies the allegations and offered his first public statement since the lawsuit came about via the Tom Joyner Morning show, however the famous religious leader didn't read the statement himself like he was supposed to. Instead, his lawyers spoke on his behalf, adding that "Bishop" Long would speak on this matter in front of his congregation in church service this Sunday (Sep 26).
Check out the statement Long released to the Tom Joyner Morning Show (via his lawyer Craig Gillen) below:
"I am anxious to respond directly to these false allegations and I will do so. However, my lawyers have counseled patience at this time. But let me be clear; the charges against me and New Birth are false. I have devoted my life to helping others and these false allegations hurt me deeply.

"These false allegations are an attack on Bishop Long personally. They are an attack on New Birth and all of the 25,000 good people who attend that church, and it's an attack on the mentoring program that has helped thousands of young men. Let me be clear. The charges against me and New Birth are false."

Gillen said Long, a married father of four, was "chomping at the bit" to speak out on the the show, but that he had advised against doing so. Gillen questioned the character of some of the men who filed the lawsuits. At least one, Maurice Robinson, was arrested in connection with a June break-in at the church. He said lawyers are trying to get a copy of a tape of the burglary. Gillen said the lawsuits have "ignited a firestorm against this good man." He implied the motives of the lawsuits were money.

Originally, Long himself was scheduled to be interviewed by Roland Martin on the Joyner show. The interview was canceled after a third man filed a lawsuit accusing the prominent minister of using his pastoral influence to coerce him into a sexual relationship. The lawsuits also name New Birth Missionary Baptist Church and the LongFellows Youth Academy.

On Wednesday, a representative of Long's team sent out a statement saying that a press conference would be held during the early part of Thursday. Gillen also went on the Frank and Wanda Morning Show on V-103. He said there should be some corroborating evidence that supports the allegations before people file lawsuits and "run to every microphone" they possibly can.

On Sunday, Gillen said, Long will address his congregation and would "be speaking from his heart."

Source: AJC
Eddie Long's attorney also spoke on the "muscle shirt" pics above saying that they have nothing to do with the charges brought against his client:
"The photos don't corroborate these charges. [Bishop Long] is a health advocate, he's a weight lifter. He's a fella, who's gonna go to work and he's gonna have on a muscle shirt. And you know he may show up in church in a muscle shirt. There's nothing really in those photographs that seems to me corroborative of these allegations."
Be the first to receive breaking news alerts and more stories like this by subscribing to our mailing list.