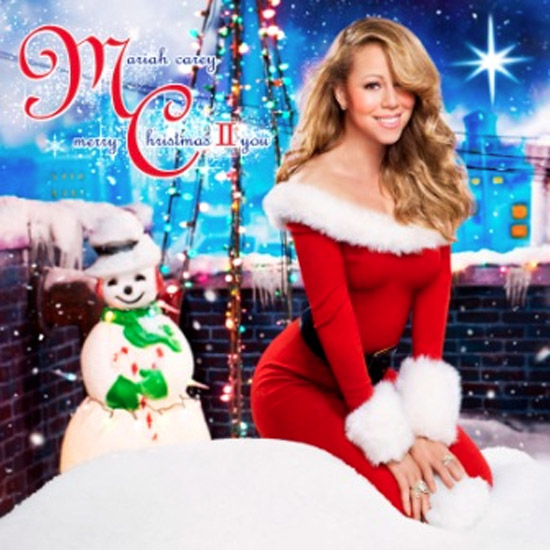 It's not even October yet and Mariah Carey is already in the spirit of Christmas! The R&B diva has revealed the cover artwork for her upcoming Merry Christmas II You album, her first Holiday-themed album in over 15 years and her 13th studio album.
Check out the offcial press release for MC's new Christmas album (due in stores Nov. 2) below:
As autumn leaves begin to fall, interna­tional superstar Mariah Carey puts the finishing touches on MERRY CHRISTMAS II YOU, her second career album of holiday tunes, arriving November 2nd on the Island Def Jam Music Group. Highlighting the long-awaited new album is a brand new recording of Mariah's all-time standard, "All I Want For Christmas Is You."

In addition to traditional yuletide fare – "The First Noel," "Little Drummer Boy," "O Little Town of Bethlehem," "O Come All Ye Faithful" and more – MERRY CHRISTMAS II YOU also contains four original songs composed by Mariah, including the new single, "Oh Santa," and many more surprises for the fans. Producers on the new album include American Idol's Randy Jackson, multi-platinum hit-making producer Jermaine Dupri, James Poyser (acclaimed producer for Aretha Franklin, The Roots, Lauryn Hill and more), and five-time Oscar nominee and Grammy/Tony/Emmy award winning composer Marc Shaiman.

MERRY CHRISTMAS II YOU is Mariah Carey's 13th studio album, and follows up her worldwide multi-million-selling Memoirs Of An Imperfect Angel (released September 2009), her multi-platinum E=MC? (2008), and worldwide 10 million selling The Emancipation Of Mimi (2005). The Emancipation Of Mimi generated three Grammy awards (including Best Contemp­orary R&B Album), two #1 singles, and countless more honors during its 18-month chart stay. Soundscan's biggest-selling album of 2005, Mimi featured "We Belong Together" (Grammy winner for Best Female R&B Vocal and Best R&B Song) and "Don't Forget About Us," Mariah's 16th and 17th #1 career singles respectively. They tied one of the most enduring chart records in Billboard Hot 100 history, Elvis Presley's 17 #1's.

Three years later, Mariah surpassed Elvis when "Touch My Body" (from E=MC?) became her 18th #1 Hot 100 hit. "Touch My Body" spent two weeks at the top, Mariah's 78th and 79th cumulative career weeks at #1, which tied Elvis' long-standing all-time high of 79 weeks at #1, as calculated by Billboard. Mariah is now positioned as the only active recording artist in the 50 years of the Hot 100 (which began in 1958) with the potential to surpass the Beatles' all-time high of 20 #1 hits. The success of E=MC? brought total sales of Mariah's albums, singles and videos to more than 200 million worldwide, distancing her even further from the pack as the top-selling female recording artist in history.

Source: Mariah Carey's Official Website
Be the first to receive breaking news alerts and more stories like this by subscribing to our mailing list.