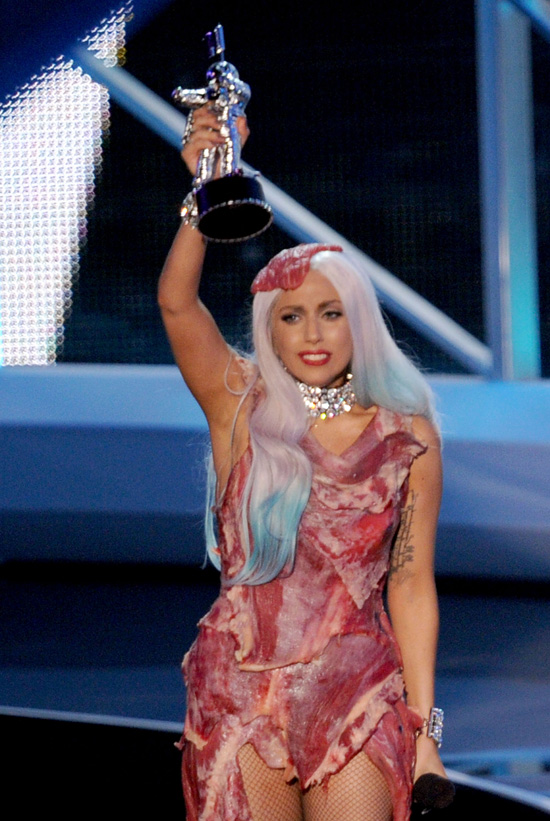 Pop superstar Lady Gaga won 8 out of her 13 VMA nominations Sunday night (Sep 12) and as she accepted her final award for the evening, she came through on a promise she made to her little Monsters. Gaga announced the name of her next album as she accepted the moonman for Video of the Year for her "Bad Romance" video.
"I promised that if I won this, I would announce the name of my new album. It's called Born This Way," Gaga told the crowd before breaking off into a quick rendition of what we assume to be the title track. "I'm beautiful in my way, because God makes no mistakes. I'm on the right track, baby I was born this way," Gaga belted to the audience.
In a new interview with RWD Magazine, Gaga speaks highly of her new project, calling it the "absolute greatest work" she's ever done. She also said that it has so many hits that it might piss people off.
"The album is my absolute greatest work I've ever done and I'm so excited about it," she told RWD Magazine. "The message, the melodies, the direction, the meaning, what it will mean to my fans and what it will mean in my own life – it's utter liberation. I knew I had an ability to change the world when I started to receive letters from fans: 'You saved my life…' 'I'm gay and my parents threw me out…' My fans have related to me as a human being and as a non-human being – as a super-human person that I truly am."

"Everyone tells me I'm arrogant but my music's the only thing I've got, so you'll have to let me be confident about one thing. I suppose that's what you can expect from the album: a lot of hit records that will piss people off. "Beyoncé said: 'Where the f**k do you get these ideas from?' And I was like: 'I don't know Bee, it was just the way I was born'."
Are you looking forward to a new album from Lady Gaga?
Be the first to receive breaking news alerts and more stories like this by subscribing to our mailing list.