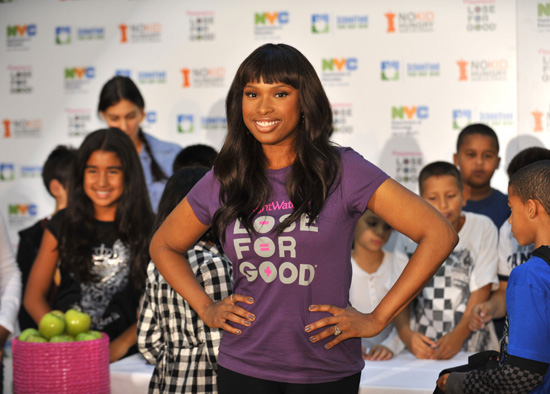 Fresh off her 29th birthday Sunday (Sep 12), singer/actress Jennifer Hudson poses at Public School 111 in New York City Wednesday (Sep 15) during the launch of Weight Watchers' "Lose for Good" charitable campaign, which teaches families how to prepare not only healthy, but low-cost meals in an effort to help fight hunger and obesity.
Jennifer, who revealed a drastic weight loss back in April of this year, says that she's lost even more weight! The actress told PEOPLE that she's lost an additional 20 pounds:
"I didn't expect to go as far as I did!" the Weight Watchers spokesperson told PEOPLE in New York City Sunday. "People are like, 'Okay Jennifer don't lose anything else!'"

Hudson still hasn't gotten used to seeing her slimmer reflection in the mirror. "I go into the store and they try to put me in 4s and 6s and I'm like [she looks over both shoulders] 'Who are you trying to talk to?'" says the former size 16 star. "My mind hasn't caught up yet." But no matter what, "I've always been a person who's comfortable with myself whether it's plus-size, small size it doesn't matter," says Hudson.
Good for you Jen! Lookin good too!!!
Be the first to receive breaking news alerts and more stories like this by subscribing to our mailing list.