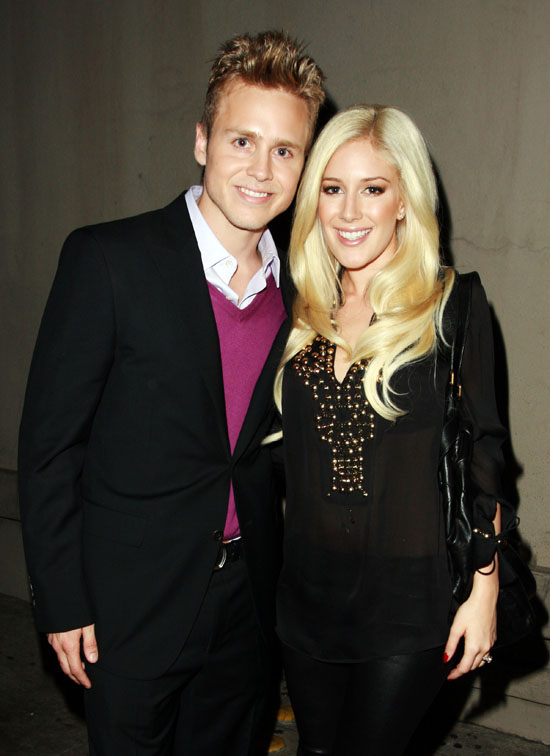 Spencer Pratt is sorry!! And we mean that both literally AND figuratively…
In what seems to be a change of heart (though we all know this is just another ploy for attention), the former MTV reality star is throwing out apologies left and right to his extranged wife Heidi Montag, saying that he "failed spectacularly" (at both life and his marriage we assume?) and he's planning to do some serious "intense soul-searching" to help sort out his obvious issues.
"Divorce can be a trying, draining, and emotionally devastating experience for all involved," Pratt, 27, tells PEOPLE. "Despite these hardships, most individuals manage to conduct themselves with dignity and maturity. I did not – I failed spectacularly."

Addressing his actions toward Montag, 23, he says, "I horribly embarrassed the one person that meant the world to me. For my outrageous and infantile behavior, I offer Heidi my most sincere apologies." He didn't specify what actions, but Pratt has been threatening to release a sex tape involving Montag, launched rants against her on Twitter and has been relentlessly pursuing her in Costa Rica.

"Over the years, her love, support, and friendship were always given, but never properly cherished. I let her down," he says. "She never deserved the pain and anguish I put her through, and although I don't expect it, I hope in time she'll be able to forgive me." He adds, "Even though our relationship has changed, I will always count her among my best friends."
Has Spencer really changed and is he TRULY sorry for being a douche? Or is this just another one of his hair brained schemes to get his soon-to-be ex wife to drop the divorce, run back in his arms and do a reality show about it. … Yeah, that last one sounds about right, don't you think?
Be the first to receive breaking news alerts and more stories like this by subscribing to our mailing list.