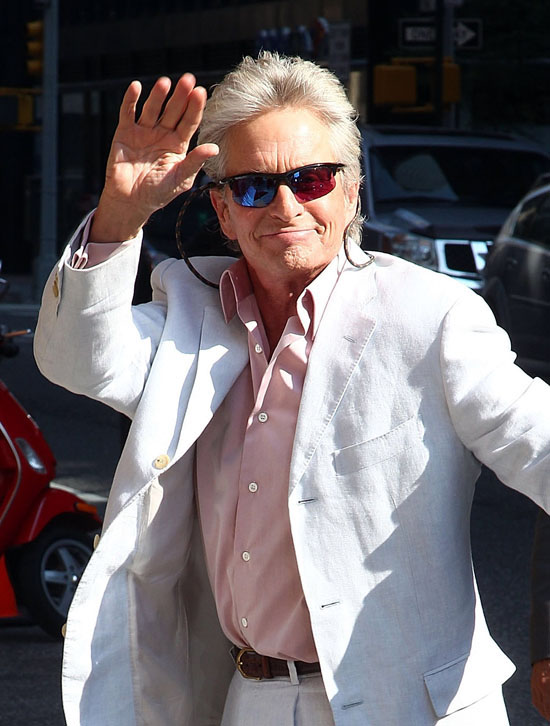 65-year-old TV/film actor/producer Michael Douglas is currently battling throat cancer, and says that indulging in a particular guilty pleasure is helping him cope with his disease and get through the early stages of treatment. That guilty pleasure? …… SPORTS!
Douglas said cancer "couldn't have picked a better time" at a press conference for his new film "Wall Street: Money Never Sleeps" Wednesday (Sep 8) in New York City.
"Tennis has never been better, college football just started and it's been a great weekend of college football." He adds: "I've got a Monday-night game coming up with the Jets, so sports looks really good. And to top it off, we have a picture that's rocking. So, what's not to like?"

Douglas was upbeat and chatty, and while the radiation and chemotherapy have left him fatigued, they haven't slowed him down too much. One unlikely perk, he joked, is that "I didn't have to do the [movie] junket today."

Douglas told PEOPLE he remains optimistic and isn't focusing on the negatives. "I'm just taking it a day at a time and trying to do my homework with the program and rest," he says. "It's just another chapter, and I've had a pretty good run of it. This has been a pretty bad year but topped off with a really good movie."

In the film, opening Sept. 24 and costarring Shia LaBeouf, Carey Mulligan, Susan Sarandon and Josh Brolin, Douglas reprises his Oscar-winning role as money-driven corporate raider Gordon Gekko. "It's probably the role that I get most recognized with," he says. "It's a beautifully written role, and it's what you dream about."
Hang in there Mike… Stay positive and (we know this sounds cliche, but) KEEP YOUR HEAD UP!!
Be the first to receive breaking news alerts and more stories like this by subscribing to our mailing list.