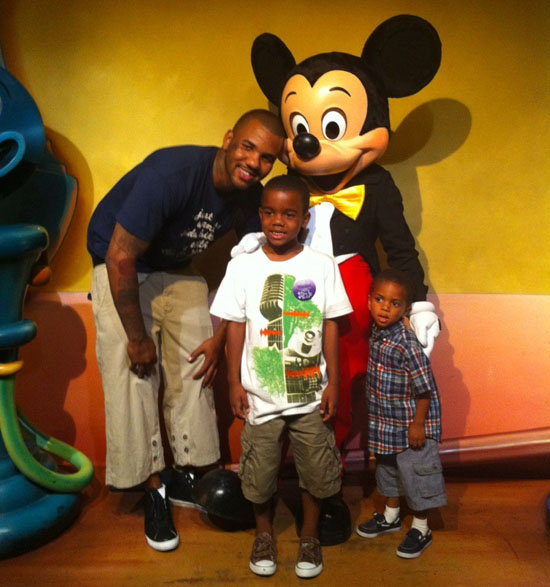 Proud father Jayceon Taylor aka Game, along with his two songs Harlem (7) and King Justice (3), say "Cheese!" for the camera as they pose for a picture with Mickey Mouse at Disneyland in Anaheim, CA Sunday (Sep 5).
"Hope everybody's day was as dope as mine ! My day went a lil sumn like this…….." The Game tweeted Sunday night.
In late August, Game introduced his newborn daughter (and third child) Cali Dream Taylor (born Aug 21) as he talked about the importance of fatherhood in a Global Grind blog titled "More Important Than My Album Release Date."
"I want all to know that children are a gift, they are the future. I love my children and dedicate my entire career to them. I have two sons and a new daughter, Cali Dream Taylor born on August 21st. There are so many men that dont take care of their children. So I work everyday at not only being an artist, but a great father to my kids – not just a daddy. There is a big difference.

"I love what I do and my album R.E.D is coming, I'm still working with Pharrell and Dr. Dre, but right now I'm enjoying being a father again and getting my kids ready for school. I just released my mixtape with DJ Skee "BrakeLights" thats doing very well to hold everyone over while the album is being completed."

Source: Global Grind
We definitely respect Game for stepping up and doing his J-O-B as a daddy AND a father! And it sounds like he truly enjoys every bit of it…
Your thoughts?
Be the first to receive breaking news alerts and more stories like this by subscribing to our mailing list.