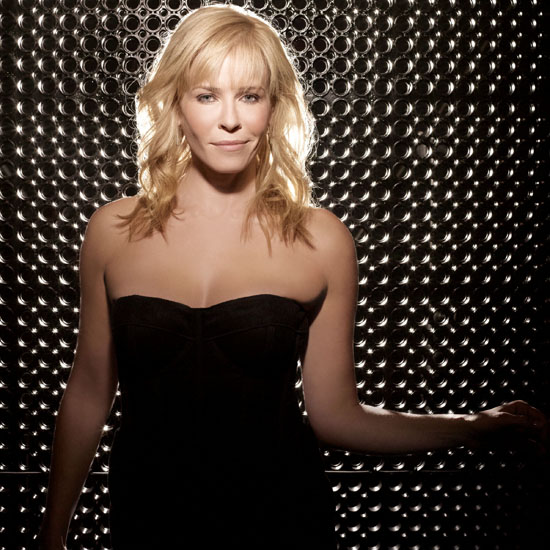 Late night TV talk show host Chelsea Handler is gearing up for one of the biggest jobs of her life — hosting the upcoming 2010 MTV Video Music Awards — and she's trying her hardest to make sure she doesn't slip up when it comes to the names of her favorite artists, like Lady Guh-GAW and Keh-dollar-sighn-hah!
MTV cameras recently went behind the scenes at Handler's VMA promo shoot and they caught the funny-woman going in on her staff for mispronouncing the names of 2 of Pop music's biggest stars.
"I am excited to see Lady Guh-GAW," Handler declared, while seated at the head of her staffers table. When someone on her team chimes in with "It's Gaga," the way that, well, the whole world pronounces it, the "Chelsea Lately" host said, correcting the supposed flub. "No, it's Guh-GAW," Handler deadpanned. "Everyone pronounces it wrong." The comedienne pointed out that another blonde hitmaker, Ke$ha, has endured mass mispronunciation of her uniquely spelled moniker. "Just like Keh-dollar-sign-hah pronounced that way," Handler said. "She doesn't want you to say it the other way. I met her."

With the big night just a couple weeks away and the pressure on to deliver another live two-hour event packed with oh-no-they-didn't moments, the cameras caught Handler and her team engaged in intense brainstorming sessions. And the crew brought in a master of mayhem to help ideate television magic: Kid Rock.

"You can go down on Snooki in the hot tub that they have on the 'Jersey Shore,' " Handler suggested to Rock. Lucky for the Handler, the Detroit rap-rocker seemed down for anything. "After a couple fifths of whiskey I'll go either way. Hell, after a fifth of whiskey I'd have sex with you." Handler, who has experienced her fair share of passes from popular lyricists, served up a demure reply to the open invitation for a drunken hookup. "Thank you," Handler responded.

Source: MTV
Sounds like the VMAs are gonna be worth watching this year! Thank GAWD they finally found a host with credentials. Russell Brand was getting kinda tired…
Be the first to receive breaking news alerts and more stories like this by subscribing to our mailing list.